OpenText Content Intelligence
Overview
Product Detail
Resources
OpenText Content Intelligence: Increase user adoption, productivity, and management insight, and accelerate deployment of tailored applications, interfaces, and reports to get the most out of your ECM investment
OpenText ActiveView and WebReports have made a massive difference to how we can make the system more 'Cochlearized,' more local to our needs. The beauty of these products is that we can actually configure the product very, very easily and make it work the way users want to work.

— Dr. Mark Cotterell, Information Architect, Cochlear
Organizations need a way to accelerate user adoption so that they can generate maximum value from their investments in core ECM. They need a way to modify the views of enterprise content that knowledge workers demand (based on their role and the work they are focused on at the time), a way to easily and cost-effectively integrate data and content from all sources, and a simple platform for building content and workflow applications that map to the needs of the organization. Beyond this, ensuring the ability to rapidly shift or tweak applications is critical to establishing the most adaptable, agile ECM environment for the enterprise.
OpenText Content Intelligence is a comprehensive solution for organizations to build custom applications, views, actionable dashboards, reports, workflow/process interactions, and intuitive methods for knowledge workers to interact with their content.
OpenText Content Intelligence provides the tools your organization needs to extend, enhance, and simplify OpenText Content Suite. Tailored interfaces can be quickly created with standard web technologies and will be dynamically presented based on the user's current role, task, and even the device they are using. This includes quickly creating custom tiles/widgets for the new Smart View UI in Suite 16. Whether presenting aggregated internal and external data, developing tailored user experiences that more tightly align with specific business processes, or making content accessible and actionable on mobile devices, OpenText Content Intelligence is the toolkit that delivers.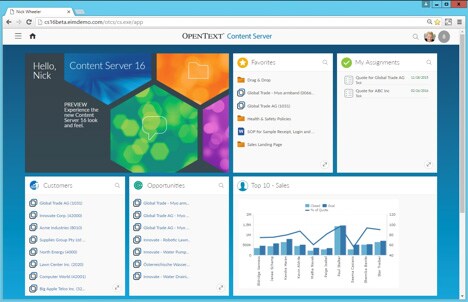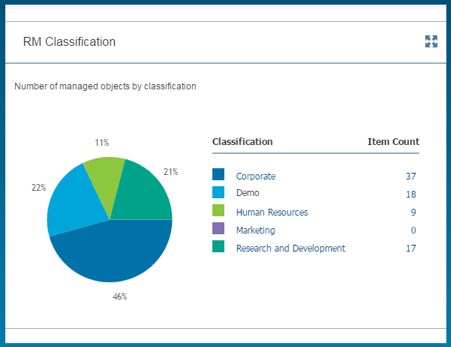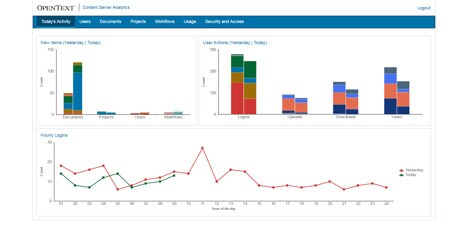 OpenText Content Intelligence delivers business value and extended return on investment for ECM across a number of lines:
Increased User Adoption of ECM Systems:
Superior user experience via easy to deploy, simple, familiar interfaces
Content visualization based on the user's role to improve usability and simplify carrying out of process steps and workflow tasks
Makes OpenText Content Server "work the way users want to work" vs. making them learn a new system and interface
Tailored for the Enterprise:
Standards-based, rapid-to-deploy tailored applications based on organization-specific requirements and processes
Accelerated deployment without outsourcing or hard-to-find development specialization or certification
Custom dashboards, applications, and reports to simplify the ECM experience for executives and knowledge workers
Rapid integration of numerous content sources–file systems to ERP and CRM–to ensure a holistic view of enterprise content and data
Productivity and ROI:
OpenText Content Intelligence comes complete with the power and flexibility to create your own amazing business applications and dashboards. These can be based on the business user's role to give them the view of content they need to get the job done faster and based on reliable, up-to-date data.
Content upgrades, customization migration, and change management for ECM are all accelerated
Learning curve is reduced, thereby driving productivity and overall cost of the system
OpenText Content Intelligence makes it easy for organizations to drive adoption and productivity by optimizing the Content Suite user experience and creating applications to suit department and task specific requirements of their OpenText Content Suite deployment. It bundles accelerated tile/widget creation, enhanced REST API, and a powerful sub-tag library with a complete set of instantly deployable and easily modifiable prebuilt reports, dashboards, and applications.
By far the easiest way to rapidly design and deploy custom tiles/widgets to the new Content Suite 16 Smart View UI and even embed them in other applications, bringing the power of Content Suite to your business processes. Quickly tailor the user experience by surfacing just the information that each user requires to complete the task at hand.
Improve user adoption by making OpenText Content Suite look and feel the way your business users want it to in both the classic and new Smart View UI
The Charting Wizard enables users to quickly visualize and analyze data to enhance business insight
Limit or eliminate training costs by making it easy/intuitive for users to work with your Content Suite system
Easily develop, deploy, and upgrade applications tailored for each department's task specific needs without outsourcing or the need for specialized development resources
Create and enhance departmental dashboards by integrating data from other applications, such as SalesForce.com based Charts/Graphs from OpenText Analytics, into the new Content Suite Smart UI to provide the information that users need to get their jobs done quickly
Implement simple integrations by surfacing Content Suite content and Widgets in other web based systems using the enhanced REST API to improve user productivity while ensuring compliance
Make sure that consistent metadata is available and applied so users can find what they need, when they need it and ensure the reliability of reports and actionable dashboards
Build task-specific dashboards and automated content reports to avoid the need for users to burden IT with ad-hoc report requests
Lower TCO and improve ROI by making OpenText Content Suite a natural extension of the way that business users create and interact with enterprise content
Content Intelligence Executive Overview
OpenText™ Content Intelligence: Driving Insight & Productivity

OpenText Content Intelligence includes the following:
OpenText Content Intelligence Enhanced Widget Creation
By far the easiest way to rapidly design and deploy custom tiles/widgets for the new Content Suite 16 Smart View UI and even embed them in other applications, bringing the power of Content Suite to your business processes. Leveraging the Content Intelligence architecture, tag library, and REST API allows you to quickly tailor the user experience by surfacing just the information that each user requires to complete the task at hand, whether they are working in Content Suite or another application. These Enhanced Widgets can also easily embed external data in custom dashboards, such as showing all of your manufacturing facilities with a Google map tile in your tailored manufacturing user experience. Tailoring the experience to each department, user, or task greatly accelerates productivity and adoption.
OpenText Content Intelligence Enhanced REST API
Enables external applications to easily access and format Content Suite content and data, often buried in complex database structures, while retaining user context and permissions. This is done without complex SQL queries, but via an extensive subtag library, which returns usable pre-formatted data based on the current user's profile and permissions. This greatly accelerates integration development and simplifies future upgrades.

This subtag library enables you to create tailored datasets/sources that can then be easily accessed by external applications via this enhanced REST API.
OpenText™ WebReports
Makes it easy for organizations to develop integrated applications, actionable dashboards, and workflows with no need for time-consuming and costly development. Complete permissions control, records management policy integration to avoid inappropriate access, and full workflow trigger capabilities enhance the feature set.
OpenText™ WebReports Workflow Extensions
Simplifies the ability for organizations to roll out applications that allow users to interact with and create content. It allows knowledge workers to move content in and out of workflows, initiate workflows, and easily carry out their required tasks without dealing with cumbersome interfaces or workflow systems. You are in full control of the use experience.
OpenText™ Report Pack for WebReports
Powerful, prebuilt tools and reports to help users visualize and manage Content Suite information and give the organization a head start in developing completely integrated business solutions.
Contact OpenText
Customer Testimonial
"We've used WebReports, the foundation of Content Intelligence, since 2004 to deploy tailored solutions for each department's needs to ensure quick user adoption and greatly increase productivity and ROI. Over the years, we've been impressed with the effortless upgrades, especially given our complex content and data integrations with systems like Oracle eBusiness and Maximo. It is evident that Content Intelligence will help customers get an immediate head start in visualizing and managing Content Server information and creating their own tailored applications, views, and integrations."
Michelle VanAllen, Supervisor, Records Management and Melanie Bodiford, Supervisor Application Support at Santee Cooper
Customer Testimonial
"Content Intelligence includes powerful document, metadata, workflow, and permission management tools to help easily monitor and implement content quality and compliance. It also provides a starting point for us to build actionable management dashboards and role-based views for each department's needs, to help them work more efficiently, without breaking the bank. This is exactly what we have been looking for."
Ken Cameron, Director, Information Technology, Library of Parliament of Canada
Customer Testimonial
"We consulted with users to better understand how they work in order to further streamline their processes. By working closely with key users in areas such as project development, engineering, technical, finance and legal we have been able to achieve significant improvements in productivity and users feel they have an influencing voice on future developments"
Philip Forshaw, ECM Manager, RES Group