OpenText Media Management
Overview
Product Detail
Demos
Customers
Resources
For the digital supply chain, Digital Asset Management (DAM) is a core technology and a critical infrastructure component. From creation to consumption, OpenText Media Management (OTMM) provides a "single source of truth" and a consolidated asset repository for marketing, branding, commerce, video, and global distribution. OpenText Media Management is an integral part of an ecosystem, with interconnected and interdependent contributors and production environments (such as agencies, photo, video, audio, graphics, layout) provisioning digital media content for the omni-channel digital supply chain.

Whether your business focus is consumers in B2C, a B2B partner network, or a combination of suppliers, distributors and customers, in an omni-channel world it's all about getting the right content and rich experiences to users on the platforms and devices they choose.
OpenText Media Management at NAB
NAB – National Association of Broadcasters - is one of the largest events in Las Vegas with more than 100,00 attendees. OpenText Media Management was there, continuing to build on our best launch ever. At NAB we were showing a completely integrated ecosystem with DAM as the core technology to "media-enable" the entire enterprise. Attendees were keenly interested in the Media Management integration with production and editing tools to support work-in-progress for video production and editing, as well as new capabilities in analytics to visualize asset usage. We are pleased with the many customers already using v10.5 and there many more waiting in the wings.
Why OpenText Media Management?
The latest Media Management release features a completely redesigned user experience that puts the digital content you want at your fingertips. Whether you're typing or swiping, the simple, yet powerful, user interface makes your job easier. The HTML5 interface and responsive design reduces complexity and unnecessary clutter to let you find, share, collaborate, and use digital assets on your browser, or touch-enabled iPad.
Unlike traditional DAM systems, Media Management has engineered a platform allowing customers to respond to these ever-growing demands. By connecting people, processes, and content, Media Management supports enterprise-wide ecosystems and digital media supply chains, from rich media creation to multi-channel, multi-platform distribution. This mean faster integrations with enterprise applications and easier customizations for the way you expect to work.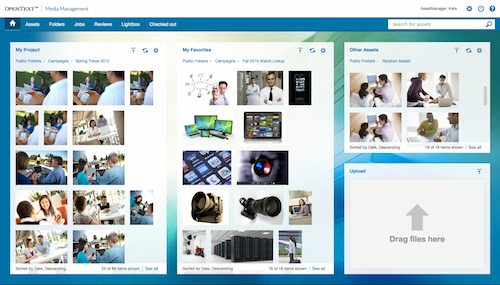 Customize your home page
Simple integration and creation of dynamic customized home pages with corporate branding and themes based on user groups. Add folder and upload widget components to get content and enable contribution and upload.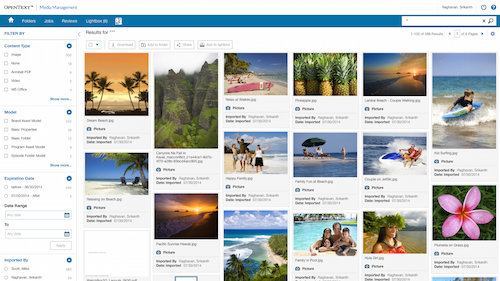 Simple yet powerful HTML5 user interface
Faceted search lets you drill down and find assets. Click to select, view, collect, share, or download assets anytime. Browse folders, initiate and track reviews and other tasks, touch enabled and mobile ready to access your digital content on the go with a secure and reliable Digital Asset Management platform.
How We Help Our Customers
OpenText Media Management customers come to us with unique needs and challenges, yet there are some common threads in how we help them:
Media Library - Consolidate local drives, file shares and legacy DAM systems into a single, managed repository to easily find, retain, reuse and secure assets.
Digital Media Supply Chain - Supports the digital asset lifecycle process for business, marketing and digital transformation initiatives for ecommerce, global branding and media distribution. Delivering relevant customer experiences across multiple channels for cost-savings and productivity gain.
Omni-Channel Experiences - Production and publishing capabilities for creating and using digital content, localizing and transforming content, maximizing exposure and interacting across any device or channel for purposeful, intentional branding, identity and customer experiences.
Workflow and Task Management - Organize people, track and assign tasks, automate repetitive tasks, streamline review and approve and enable collaboration for creative, marketing, operations and publishing team
OpenText Media Management is a full-featured Digital Asset Management system and an integral part of a comprehensive Customer Experience Management (CEM) ecosystem that includes Web Experience Management, Content Analytics, Customer Communications Management, Business Process Management, Semantic Search, Archiving, Social Media. OpenText Media Management supports CEM as the core management layer for Intellectual Property (IP) assets, unifying workflows, production environments, and distribution.
Begin your digital transformation now with OpenText Media Management.
As a leading enterprise Digital Asset Management solution, OpenText Media Management has workflow-driven, multichannel capabilities for producing, publishing, and distributing digital media and content through a secure, scalable platform.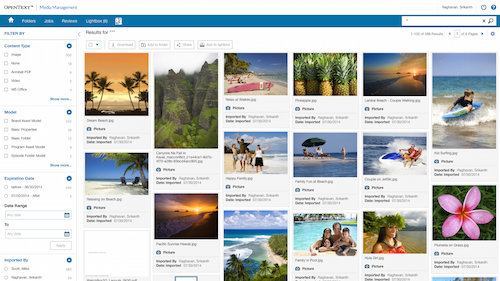 OpenText provides the core enterprise infrastructure, key platform components and capabilities supporting the DAM ecosystem with the efficiencies of "create-once, use-many" to repurpose, re-express, reuse, and re-create.
Our customers have measurable gains in productivity from automated, collaborative processes and centralized, searchable repository. Focusing on our core competency and a platform to interconnect and integrate with other components is a major OpenText differentiator.
Features
Dynamic Content - Custom branded home pages based on user groups. Brand Affinity gives user groups a custom look and feel. "Widget" components let you customize the capabilities, such as drag and drop or add new assets.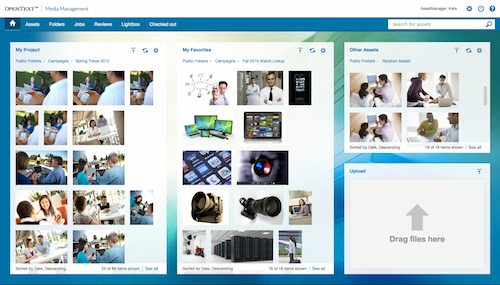 Intuitive Search - Use facets to drill down and find what you need, suggestions, advanced search, saved searches, and recent searches.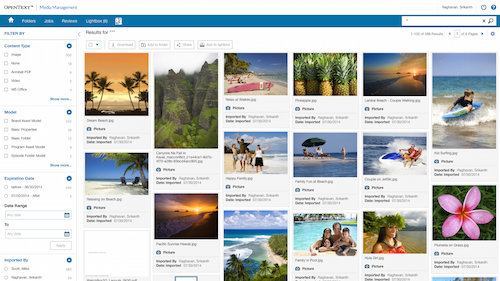 Folder Browse - See all the assets in a selected folder. Add asset to the folder. Subscribe to folder events and get notified of changes.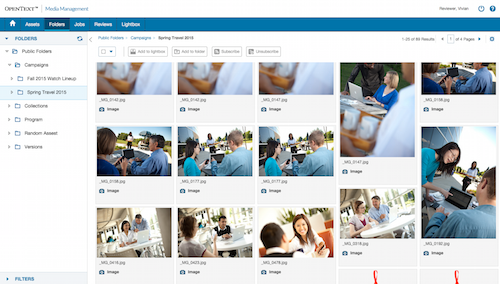 Responsive Design and Touch Enabled - Compatible with iPad out-of-the-box.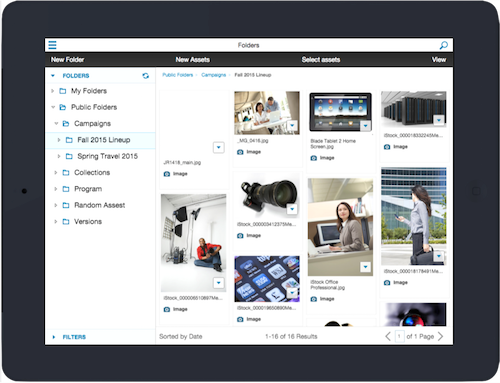 REST API
Pragmatic REST API implementation
Written on top of the Java API (SDK)
Works with OpenText Application Gateway (OTAG)
For more information, visit https://developer.opentext.com
Digital Asset Management involves building taxonomies and data models, architecting a robust system, and integrating and developing custom capabilities to fit your organization's needs. All of these are extremely important but one area that also requires attention is user adoption. "If we build it, they will come" is a misconception in DAM.
OpenText has redesigned the Media Management user experience to make it more simple and intuitive, while maintaining all of the enterprise-level power to support large and small operations.
Browser-based, HTML5
Responsive design and touch-enabled for iPad
Custom branding for user groups
Functional "widgets" for personal workspaces
Extensible to other applications
Featured Customer Stories

With up to 800 users and up to 2,500 assets being submitted daily, in addition to ongoing management of existing assets, it's imperative that we have efficient processes. OpenText has all but eliminated unnecessary asset recreation. Our users can quickly locate assets and make required changes within the OpenText system, helping speed up publication and keep costs down.
Product:&nbspOpenText Media Management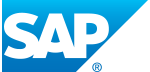 In a content-driven marketing organization like ours, the ability to manage the lifecycle of the content and then deliver it across a variety of channels really brings efficiencies to the company.
Product:&nbspOpenText Digital Asset Management for SAP Solutions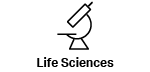 OpenText Media Management helped immensely in getting the structure organized and facilitated the search and download of assets.
Product:&nbspOpenText Media Management
Contact OpenText
OpenText Solutions for the Digital Media Lifecycle
Find out how we can help you to simplify your complex digital media project management. Extending DAM and process orchestration for greater business agility.
Recognized Leader
Forrester Research named OpenText a leader in its latest report: The Forrester Wave™: Digital Asset Management For Customer Experience, Q4 2014, finds that OpenText Media Management is among vendors that "provide broad offerings that go beyond just rich media management."
Omni-Channel Commerce and DAM
Find out how you can take your marketing from Dim to Dimensional. Learn why Digital Asset Management is a core infrastructure for delivering omni-channel customer experiences.
OpenText Experience Suite
Media Management is part of a family of integrated customer experience products from OpenText. Learn how you can orchestrate exceptional customer journeys and manage information and tasks for faster time to market with relevant and personalized content that truly resonates with customers.