OpenText Media Management
Overview
Product Detail
Demos
Customers
Resources
Media Management gives you a better, smarter way to work. Manage, create and use your digital media to connect your messages and your brand in all of your communication channels to better engage with your teams, your partners and your customers.
It seems overwhelming at times. We all want more pictures, video and digital content. That means the amount rich media is growing exponentially and faster than we can process it or even comprehend.
Did you ever realize how a single image - your hero shot - is used in hundreds of different campaigns, ads, channels and devices? What about all the effort to create that single best hero shot? Watch the video and you'll see what we mean.
Whether you're a customer experience expert, creative guru, eCommerce executive, digital architect, brand doctor, the big chief or a marketing minion, you want to tame the digital jungle.
OpenText™ Media Management is doing that for global enterprises across a broad spectrum of industries - including media companies, banking, financial companies, retailers and top name brands as well as museums and public institutions.
You know that DAM, done well, increases productivity and provides better control of your content for better engagement and, ultimately, better bottom line results.
But it is not just about DAM.
DAM is one part of a bigger journey in digital transformation.
DAM coexists with many other technologies for marketing, business processes and back office. OpenText Media Management is part of a broad portfolio of technology solutions including the Experience Suite, Process Suite, and Content Suite.
Wherever you're at in your journey, we'll meet you there and help you move forward.
As a leading enterprise Digital Asset Management solution, OpenText Media Management has workflow-driven, multichannel capabilities for producing, publishing, and distributing digital media and content through a secure, scalable platform.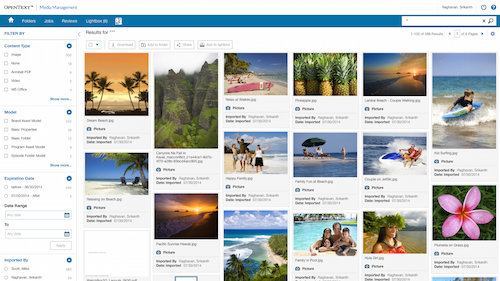 OpenText provides the core enterprise infrastructure, key platform components and capabilities supporting the DAM ecosystem with the efficiencies of "create-once, use-many" to repurpose, re-express, reuse, and re-create.
Our customers have measurable gains in productivity from automated, collaborative processes and centralized, searchable repository. Focusing on our core competency and a platform to interconnect and integrate with other components is a major OpenText differentiator.
Features
Dynamic Content - Custom branded home pages based on user groups. Brand Affinity gives user groups a custom look and feel. "Widget" components let you customize the capabilities, such as drag and drop or add new assets.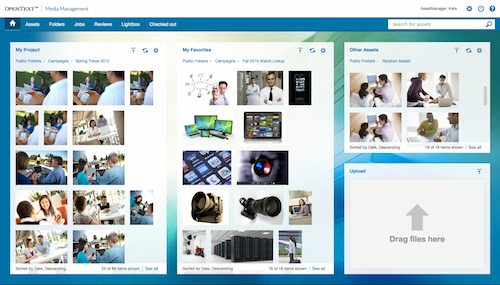 Intuitive Search - Use facets to drill down and find what you need, suggestions, advanced search, saved searches, and recent searches.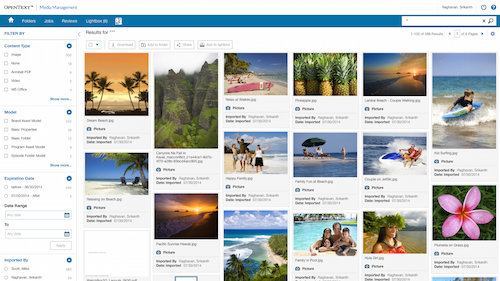 Folder Browse - See all the assets in a selected folder. Add asset to the folder. Subscribe to folder events and get notified of changes.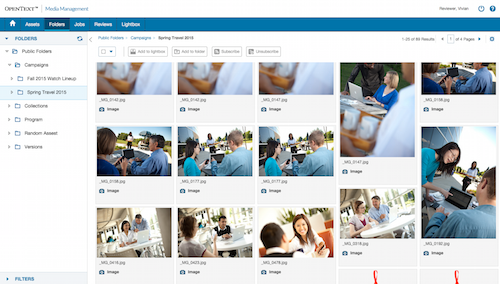 Responsive Design and Touch Enabled - Compatible with iPad out-of-the-box.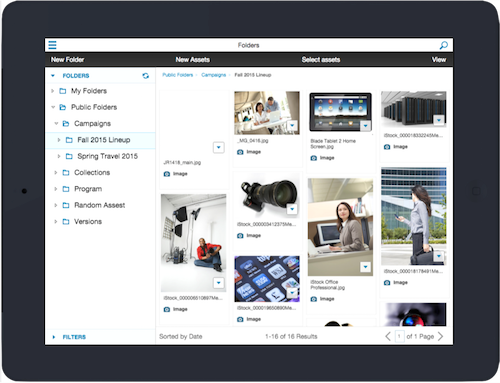 REST API
Pragmatic REST API implementation
Written on top of the Java API (SDK)
Works with OpenText Application Gateway (OTAG)
For more information, visit https://developer.opentext.com
Digital Asset Management involves building taxonomies and data models, architecting a robust system, and integrating and developing custom capabilities to fit your organization's needs. All of these are extremely important but one area that also requires attention is user adoption. "If we build it, they will come" is a misconception in DAM.
OpenText has redesigned the Media Management user experience to make it more simple and intuitive, while maintaining all of the enterprise-level power to support large and small operations.
Browser-based, HTML5
Responsive design and touch-enabled for iPad
Custom branding for user groups
Functional "widgets" for personal workspaces
Extensible to other applications
Featured Customer Stories