Business Process Management (BPM)
Automating core business processes to improve efficiency, reduce costs, ensure compliance, and significantly increase service levels to constituents inside and outside the organization.
Learn More About How OpenText Can Help You
Overview
Business Needs
Products
Resource Center
Overview
The OpenText Process Suite
As part of Enterprise Information Management (EIM) by OpenText, Process Suite helps organizations work more efficiently, lower costs, and outperform their key business goals with real-time business insight.
Today's progressive organizations have embraced advanced process automation and case management capabilities from OpenText to:
Reduce the time-to-value for deploying solutions
Meet the changing needs of service requesters and providers
Create process applications that include a wide variety of EIM capabilities
Develop and deploy solutions to match business requirements, from packaged apps to model-driven development.
OpenText Process Suite can be deployed on-premises, in the cloud, or via hybrid deployment.
The Process Suite includes platform, applications and add-on capabilities in a packaged offering.
OpenText Process Suite platform:
OpenText Cordys Business Process Management and Case Management platform:
Business Rule Management
Composite Application Framework
Enterprise Service Bus
Master Data Management
Unified UX
Process App Framework (previously called Assure)
BPM Everywhere (social and mobile interface)
OpentText Directory Services
OpenText AppWorks Gateway
Applications Products
OpenText Cordys Cloud Provisioning
OpenText Case Management
Add-on Products
OpenText Process Intelligence
OpenText ProVision
OpenText Cordys Cloud
Business Needs
Business Needs for Process Suite
Business Needs for Process Suite
OpenText Process Suite enables businesses to rapidly understand and automate even the most complex processes, and allows strategic CIOs to work with lines of business to identify new opportunities to drive their agenda of growth and innovation.
Process Suite consists of solutions for case management, business process management, service delivery, and business process transparency. It provides process capability for all OpenText product suites through AppWorks integration. These developer tools and APIs accelerate time to value for customers, and amplify their ability to iterate and innovate critical process capabilities.
OpenText Process Suite Platform
The OpenText Cordys process engine enables organizations to tackle their most pressing and complex process automation and case management challenges from a single platform.This solution includes a full set of capabilities within the core platform, including:
Master Data Management – for reducing data volume and clarifying the single source of information.
ESB – an enterprise service bus to help ease the work of integrating with many data storesand legacy or custom apps that are needed to complete your process automation.
Composite Application Framework – allows organizations to integrate disparate data sources, legacy systems, business software and web content into a personalized, process oriented workplace.
Unified User Experience – to support a single and intuitive work experience for users, no matter which process engine may be driving a process on the back end.
OpenText Process App Framework – Previously known as Assure, this set of prebuilt service delivery components and reports enables organizations to "assemble" rather than code applications and deploy them much faster than traditional tools.
BPM Everywhere – this is a social platform to allow users to participate in processes with a very simple and intuitive user interface.It also supports tablet and other mobile platforms.
OpenText AppWorks Gateway – this is a set of RESTful APIs and developer resources across the broader EIM stack to allow developers to easily create solutions that span the breadth of the OpenText EIM portfolio.
OpenText Process Suite Applications
OpenText Process Applications can be added to the Process Suite platform to extend its functionality via packaged solutions to solve specific needs.OpenText packaged process applications include the following:
OpenText Cloud Provisioning - allows organizations to create, automatically provision, and orchestrate on-premises and cloud-based services that make up a new product, value added service or application.
OpenText Case Management – a new solution for case management that includes specific services, user interfaces, collaboration tools, and reports for automating a wide variety of case management workflows.
Process Suite Add-On Products
Add-ons for OpenText Process Suite are separate products that may be used with the platform to extend it to meet the specific needs of customers.These include:
OpenText Process Intelligence – formerly known as managerView, this reporting and analytics solutions delivers multi-dimensional process analysis and dashboard reporting that increases visibility into processes and people, enabling better measurement, deeper insights, and smarter business decisions.
OpenText ProVision – this comprehensive tool for enterprise and business architecture design and analysis offers multilayered visibility into business strategies, including how people, processes, systems, and technologies can be aligned to attain them.
From credit unions, mortgage lenders, to media companies and the Department of Homeland Security, OpenText has helped customers achieve a variety of critical results including reducing time to value by 75 percent, and doubling customer service requests processed with no additional headcount. We are proud of the respect that OpenText Process Suite has earned from both customers and analysts.
Products
BPM Products
OpenText Smart Process Applications incorporate industry-leading best practices with BPM, content management, capture, collaboration, analytics, customer communications, and information awareness to deliver process-based apps in as little as 30 days.
Deliver process-based applications to the business in as little as 30 days
Leverage pre-packaged components and industry-best practices to deliver systems of differentiation
Supports the need for continuous process improvement while maximizing flexibility and efficiency
Learn More
OpenText Business Architecture products deliver an easy to use, complete platform for enterprise transformation, planning, modeling, and architecture. Linking strategy to execution, you can make smarter decisions faster in order to respond quickly to pressing business challenges.
Create blueprints to enable effective business transformation
Ensure BPM programs deliver the expected results
Document standards to ensure regulatory compliance
Optimize your ERP investments for maximum success.
Provides a single source of truth for change and improvement
Learn More
Resource Center
Customer Stories
PSCU
Our satisfaction has improved. We have watched our volumes go up 60% from implementing this new portal for our customers.
Danielle Hollis, BPM Developer, PSCU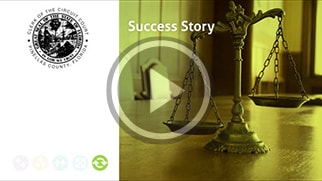 Clerk of the Circuit Court, Pinellas County
We've been more efficient because we're doing the same amount of work, even a greater amount of work with less people. And we're effective because people are getting their files quicker and getting their orders in a more timely manner.
Ken Burke, Clerk of the Circuit Court and Comptroller, Pinellas County, Florida
More Success Stories
Contact a Solutions Specialist
Michelle Dufty
Director of BPM Product Marketing
Contact Us
Upcoming Webinars
THE OPENTEXT FAMILY
OpenText has recently welcomed a number of products into the OpenText brand family. For a complete list of previous product names that are now part of the OpenText brand family, see:
See All Rebranded Products