Events & Webinars
Upcoming Live Webinars
November 13 | 2:00 PM
December 04 | 3:00 PM
Upcoming Events
November 06 | 12:00 PM
November 05 | 7:00 AM

Join us November 9-14, 2014 in Lake Buena Vista, Florida for Enterprise World 2014, our annual customer conference. This week-long event provides attendees with the opportunity to learn about and experience the possibilities of Enterprise Information Management (EIM) directly from the OpenText leadership team, as well as key customers, partners, industry thought leaders and innovators.
Enterprise World offers over 200 product specific breakout and training, interactive panel discussions, customer presentations, live product demos and a host of valuable opportunities that will amplify your knowledge and networks.
Mark your calendar and register for Enterprise World 2014 today!
Let's keep the conversation going! Thanks to all who joined us this past year for Enterprise World 2013. Stay connected and join the Community for access to presentations and continuing discussions.

The OpenText Innovation Tour has officially wrapped! The ambitious 15-city Tour that began in Tokyo on February 18 and finished in Calgary May 26 was a huge success that brought Mark's 2020 Vision to OpenText customers and partners all over the world.
Here are some key statistics: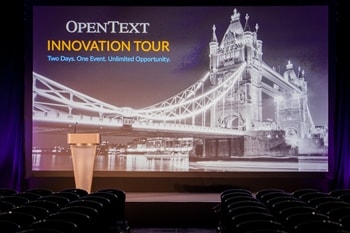 ♦ 4053 Customers
♦ 1460 Partners
♦ 1145 Staff
♦ 389 Breakout Sessions
♦ 62 Customer Speakers
♦ 5 Continents
♦ 15 Cities
♦ Countless Conversations
♦ Demos in the hundreds in the Innovation Expos around the world
We hope you found the Innovation Tour informative and thought-provoking. From wearable technology to the Internet of Things, today's digital and technological disruptions are impacting every facet of the enterprise and changing the rules of business. By the year 2020, that impact will grow, making it even more imperative to actively address these challenges.
Please visit our Knowledge Center to access all the great presentations that were given across the globe at the Innovation Tour.
Planning has now begun for 2015, stay tuned for more information on dates and locations coming soon.
OpenText Global Events
Browse pictures from previous OpenText events.

What happened on the Tour? Watch the video to find out!
Events Twitter Feed
Browse Events & Webinars:
Upcoming Event or Live Webinar

Recorded Webinar
UPCOMING EVENTS AND LIVE WEBINARS
DATE & TIME
RECORDED WEBINARS
RECORDED ON