OpenText SOCKS Client
Connect computers across firewalls from one network to another while maintaining the highest level of security.
OpenText™ SOCKS Client is a Windows®–certified, state-of-the-art Windows security solution that allows you to connect to hosts across firewalls. Without requiring any changes to enterprise applications, SOCKS Client helps organizations enforce security policy and allow applications to reach legitimate external hosts through simple, centrally controlled rule-based settings.
SOCKS Client uses the SOCKS industry-standard security protocol, which was developed to allow computers on one network to connect to hosts on another network through a proxy. With support for the latest Microsoft® Windows operating system and backed by a highly regarded customer support organization, SOCKS Client can be a critical component of your enterprise security strategy.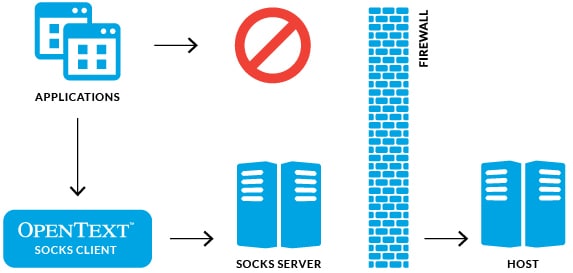 Controls access by application, destination host name or IP address, or port range
Functions as a SOCKS-based personal firewall on modern Windows 32- and 64-bit platforms, including Microsoft Windows and Windows Server 2008 R2
Offers independent software vendors (ISVs) the ability to include SOCKS technology in their applications without changing code or workflows
Integrates seamlessly with SOCKS-compliant server solutions, such as BlueCoat® ProxySG
Contact OpenText
Downloads