OpenText Employee File Management for SAP® Solutions
Overview
Demos
Customers
Resources
Streamline your employee file management with integrated digital personnel files
Manage large volumes of workforce-related records globally, while maintaining compliance with document retention and deletion regulations. Transform your Human Resources from an administrative to a strategic operation by providing your HR department with a complete solution that delivers compliant, accessible digital records of your workforce. This means all printed documents from employees and job applicants, master data and internal personnel documents are immediately available from the electronic personnel file. This ensures that all personnel activities and processes are performed quickly and easily. Your HR staff can instantly search and access exactly what they need, when they need it.
Automating routine document-related inquiries
Enable shared services operations and support global HR processes
Ensure compliance through data integrity and availability
Gains in productivity for HR staff with a complete view of all employee documents
Reduced operational costs by automating administrative activities and eliminating paper archives
Lower training costs and higher employee satisfaction within the HR department by automating routine document-related inquiries
Minimized risk through improved data integrity and availability
Ensure efficient and seamless personnel processes
OpenText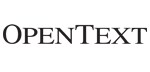 Some of the immediate feedback I hear from the team is how great it is that they no longer have to spend so much of their time filing and sorting through piles of paper documents. So this has an immediate impact on their daily jobs and among other things allows them to focus on more value-added activities. The engagement of the team has definitely increased as a result.
Tracy Sinclair, Director, Global M&A and HR Systems, OpenText
Contact OpenText
Engage with Us

Facebook

Linkedin Group

@ECMforSAP
Certification