Digital Asset Management (DAM)
OpenText Digital Asset Management (DAM) solutions provide a Better Way to Work by creating and using media assets enterprise-wide, across all your channels, delivering on your organization's brand promise to customers.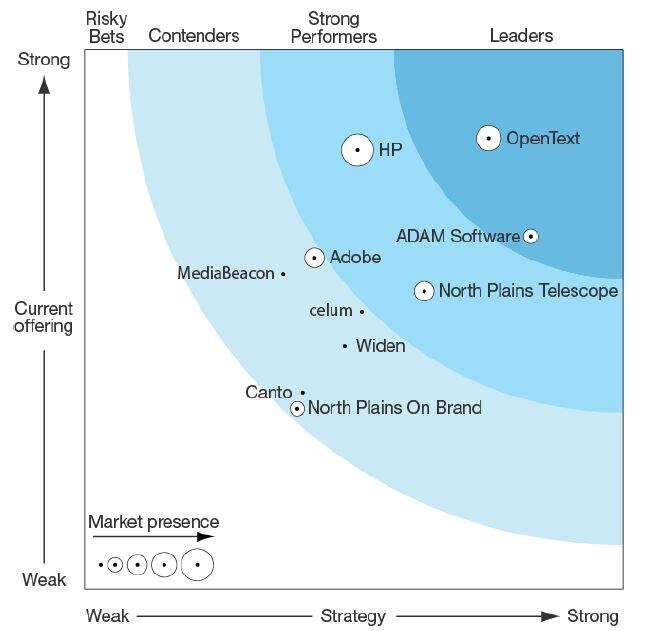 Forrester Names OpenText a Leader in Digital Asset Management for Customer Experience
OpenText is proud to be named a leader in Digital Asset Management for Customer Experience by Forrester Research, Inc. The analyst recognized OpenText's robust functionality and noted that DAM "fits well into OpenText's strategy around enterprise information management."
OpenText Digital Asset Management (DAM) Software Systems
Overview
Business Needs
Products
Resource Center
Overview
DAM Software Solutions
Everybody wants more rich media and video. From marketing, creative, web, ecommerce, sales to corporate communications, - we all want to engage our staff, partners, customers and market with compelling and relevant information. OpenText™ Digital Asset Management (DAM) solutions serve as the centralized, secure and accessible repository - whether Cloud-based or on-premises - to manage digital media, branding and video. Scalable for the largest enterprises, our DAM solutions offer capabilities to manage the entire content lifecycle with workflows and features for creative production, collaboration, publishing and distribution of assets and to use your digital assets to drive value for the organization.
What can OpenText Media Management do for you?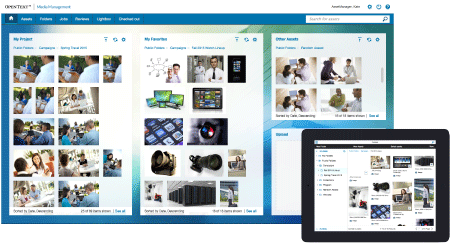 The intuitive user experience in OpenText™ Media Management puts the digital content you want at your fingertips. Whether you're typing or swiping, our user-friendly, yet powerful, user interface takes away complexity and unnecessary clutter for a better way to work.
Business Needs
How Can We Help?
Digital Asset Management is a core technology and a critical infrastructure component for Customer Experience. Whether Cloud-based or on premises, OpenText™ Media Management provides a "single source of truth" and consolidated asset repository for marketing, branding, video assets, ecommerce and global distribution.
OpenText Media Management is the only enterprise solution that can meet the broad set of content production, presentation and interaction needs in today's digital enterprise.
Our enterprise DAM solutions help you in many diverse ways, such as
Managing libraries of media assets for global brand management
Publishing product catalogs and ecommerce
Packaging and print communications,
Integration with the digital marketing ecosystem
Digital self-service portals for energizing your media supply chain
Analytics and insight on usage and performance of digital assets
For IT departments, a broad spectrum of integration and development options for custom business and productivity apps leverage the content management capabilities within Media Management.
OpenText DAM solutions are uniquely designed to facilitate the digital relationship between an organization, its users, partners, agencies and digital media network with greater transparency and access to media assets and intelligent control to distribute content to the right channel and user devices from a number of available systems, apps or output channels.
Products
Digital Asset Management Products
Cloud-based Digital Asset Management for entry-level and beyond. Manage branding assets and digital media in a single repository; find what you need and eliminate time-wasting shared drives.
Learn More
Enable more effective global marketing and commerce by allowing the entire organization to share and use digital assets integrated with SAP – Marketing Resource Management and CRM, as well as hybris eCommerce and Product Catalog Management.
Learn More
Resource Center
Featured Customer: DDR
DDR Corp. enables immediate, convenient access to marketing collateral with OpenText Media Management