OpenText Qfiniti
Benefit from next generation workforce optimization in your enterprise contact center
Delivering premium customer service is a powerful competitive differentiator in today's marketplace, which means the performance of your contact center is crucial to the success of your business. To keep customer satisfaction high, you must be able to measure and understand interactions, so you know you are meeting your customers' needs and identifying opportunities for agent workforce improvement.
OpenText™ Qfiniti delivers a unified, centrally managed workforce optimization (WFO) platform for multichannel interaction analysis, with real-time agent support and contact center performance management capabilities. By automatically delivering relevant, accessible, and actionable customer intelligence to the organization, you can understand the meaning of customer interactions and deliver outstanding service across the globe.
OpenText Qfiniti delivers fully integrated, next generation workforce optimization to the enterprise contact center:
The integrated OpenText Qfiniti products are built on more than a common user interface and central administration. OpenText Qfiniti addresses the workforce optimization demands of today's enterprise contact centers thanks to integration on multiple layers:
Advanced analytics: Qfiniti leverages the advanced mathematical techniques, statistical analysis, and pattern-matching of OpenText™ Explore to extract meaning from every customer interaction — including unstructured formats like voice recordings, emails, chats, texts, and social networks — allowing strategic decision making based on a deep understanding of customers, competitors, and markets.
Big data capable: both Qfiniti and Explore scale to manage the data demands of today's largest enterprise contact centers – for one of our customers, Qfiniti powers more than 55,000 agents on a single system.
Open architecture: Qfiniti and Explore can be deployed on industry-leading servers, such as HP® Dell™, and IBM®.
Compatible with major ACDs: Qfiniti interfaces with the major Automatic Call Distribution (ACD) platforms and dialers, including Avaya, Genesys®, Aspect™, Aastra Intecom, Alcatel, Cisco™, Siemens, NEC, Ericsson, Mitel®, and more.
Available as a managed service: the entire OpenText Qfiniti solution and OpenText Explore advanced analytics are available to be deployed inside your network or managed remotely by a team of OpenText operations experts. Learn more about OpenText™ Qfiniti Managed Services, and get all the benefits of the cloud without the security risks.
Contact OpenText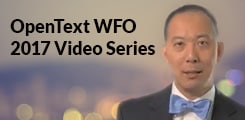 LEARN HOW YOU CAN DRIVE CONTACT CENTER AWARENESS IN YOUR ORGANIZATION
Analysts and practitioners from DMG Consulting, Ovum, Aflac, Asurion and OpenText share their expertise in short video commentaries.