OpenText Explore
Deliver valuable business insight with real-time Voice of Customer, speech and cross-channel analytics
Today's customers regularly use a variety of communication channels and touch points to engage with companies, but most businesses can't understand the related patterns and trends within those interactions or compile them for sharing with decision makers. Moving beyond disparate customer interaction data is the first step in identifying the insights that will positively influence your business. When deployed as part of the OpenText™ Qfiniti intelligent modular workforce optimization (WFO) solution, OpenText™ Explore provides a business discovery solution that allows you to view cross-channel interactions collectively for a comprehensive picture of customer behaviors and relationships.
OpenText Explore enables analysis of call recordings and chat sessions in combination with behavioral data from social media, worldwide blogs, web forums, and news coverage and then mines this rich data dynamically for underlying meaning. As a result, actionable insight into customer behavior can be made available in near real time, not only to the contact center, but also to business units throughout the enterprise, such as marketing and sales. From this information, insight into engaging and highly relevant customer experiences makes it possible to more effectively resolve problems or improve sales across every channel.
Aggregate all data sources regardless of channel
Automatically cluster data to discover emerging trends
Take sentiment detection to the next level
Gain broad social media access
Benefit from automatic alerting and tagging
Rely on a customizable web interface
Some of the proven use cases include:
Speech analytics and discovery: Account for the variability in speech, such as language, dialect, accent, or emotion by using technology to form a contextual hypothesis of what is being said.
Voice of Customer: Gain a thorough understanding of customer perceptions and feedback from across all channels and touch points.
Cross-channel optimization: Identify which customers should be moved to self-service versus agent-assisted service based on specific situations; for instance, certain customers should always engage in live interactions with an agent.
Customer experience analytics: Understand and respond to the true experiences for specific customers, as opposed to siloed experiences based on legacy single-channel technologies.
Text analytics: Understand the meaning of text-based communications, such as survey results, complete with open-end verbatim or CRM notes, and automatically classify and categorize those interactions based on meaning as opposed to keywords.
Customer interaction survey and assessment: Leverage all survey and assessment data for a complete picture of customer interactions.
Fraud and risk mitigation: Detect patterns of activity to alert for situations where fraud or risk is growing and protect the organization against potential harm.
In combination with OpenText Qfiniti and as part of the OpenText intelligent workforce optimization offering, Explore delivers actionable customer insight to your contact center and beyond to the broader organization.
OpenText Explore Resources
Contact OpenText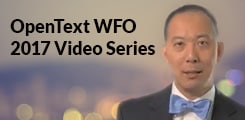 LEARN HOW YOU CAN DRIVE CONTACT CENTER AWARENESS IN YOUR ORGANIZATION
Analysts and practitioners from DMG Consulting, Ovum, Aflac, Asurion and OpenText share their expertise in short video commentaries.
Downloads