SAP
SAP and OpenText. Run Simple. Run Digital
Information is the currency of the Digital Age and managing the transformation to a Digital Organisation is the number 1 challenge faced by Business's today. OpenText is the number one partner for SAP in enabling the management of Enterprise Information within the context of business processes with SAP.
Together we combine the Digital Core with the Digital Content Platform.
Learn More About How OpenText Can Help You
Overview
Product suite for SAP
Resource Center
Overview
Transformative EIM across Business Responsibilities
In a structured data world up to 1/3rd of all content being generated (inbound and outbound) is unstructured and the volume of content is growing at rates over 40% year on year. As organisations transform themselves to be Digital First, an effective Enterprise Information Management (EIM) strategy is a key enabler. A vital understanding of where and how to deploy an EIM strategy can assist in understanding the Business Systems that will be affected.
Transformation should be applied to an organisation at three distinct levels – Business, Process and IT. Business Transformation supports entirely new ways that being digital enables organisations to work with customers, partners and their own workforce e.g. new ways of selling products with different revenue models. Supporting the requirements for business transformation is the need to streamline and transform the underlying processes across an organisation – adding compliancy, flexibility and new information flows – for example supporting an entirely new pay as you go process so support a new revenue stream. Finally, simplifying the IT platform promotes common solutions and integrations, enabling flexibility and standardised ways of working with, and accessing Enterprise Information in Context.
The SAP Digital Core provides the transformation capabilities for the structured content world, and the OpenText Digital Content platform is aligned to the Digital Core providing capabilities to manage unstructured content in todays environment of HyperConnected content, processes and data.
For every organisation, 6 common Business Systems exist, and these are aligned to the Digital Core / Content Platforms supporting Assets and IOT, Customer, Workforce, Supplier, Finance and Procurement. Each of the OpenText transformers provides specific Business System solutions.
Featured Customer Successes
OpenText and SAP have been partners for over 20 years, delivering thousands of successful solution implementations to our joint customers. Recognised benefits that they have identified include reductions in document processing time and greater efficiency, measurable cost savings, better supplier engagement and workforce self service.
To see how our customers have succesfully tranformed their digital content within SAP processes, please see the Customer Success Stories library.
Product suite for SAP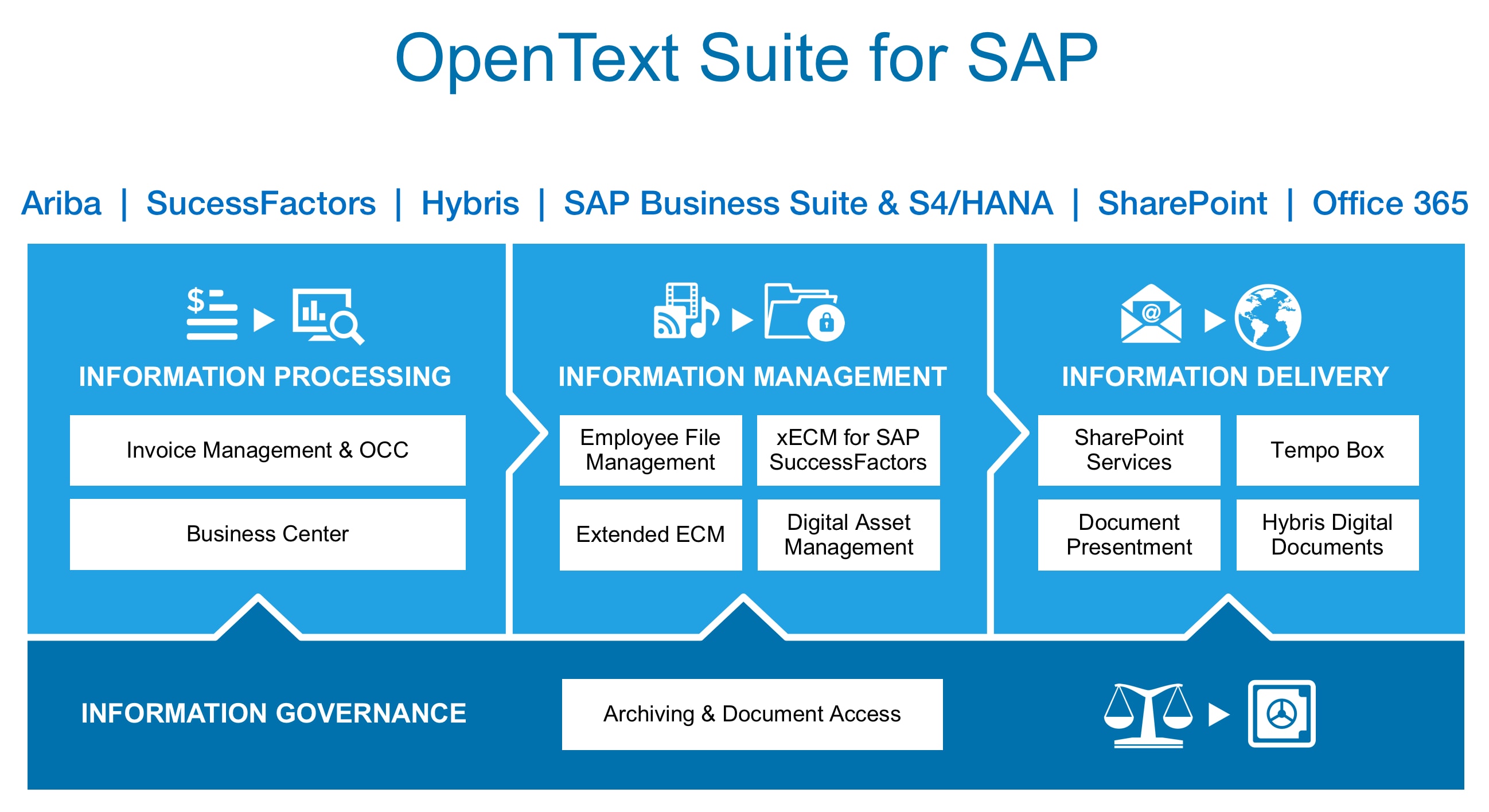 Digital transformation is all about fundamentally changing the way you interact with customers, suppliers, partners and employees as well as how you conduct your internal business operations. At the heart of any transformation is how digital information is utilised. OpenText's Suite of products for SAP provide you with solutions that help map out and deliver your transformation strategy in an SAP Context across an organisation and beyond.
Our solutions span the breadth of digital information operations, from the compliant management and archiving of content to ensuring that an omni-channel experience for a customer is rich in digital media and interactivity and preparing the way for supporting connected devices and the Internet of Things.
Learn more about OpenText Suite for SAP.
Resource Center
Contact OpenText
SAP Pinnacle Awards 2015 Winner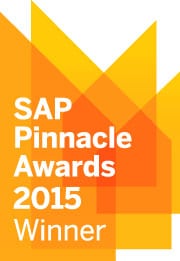 OpenText is pleased to be recognized as a SAP Pinnacle Awards 2015 Winner "Solution Extension Partner of the Year" in the category Value Creation. This category recognizes partners that extend soluiton offerings, drive shareholder value, create new and innovative business models, accelerate the impact of technology investments and help customers transform their business.
Breaking News
SAP and OpenText to Accelerate Global Adoption of Enterprise Content Management
Learn more