SAP and OpenText
Maximize the Potential of Your Digital Information
Future business will be digital business and become the new norm for business operations. Information is at the heart of this digital transformation.

SAP is known as the market leader in enterprise application software, to help companies of all sizes and industries run better. OpenText is established leader in managing unstructured information in context of business processes in a SAP environment.
For more than two decades, SAP and OpenText have combined strengths in a strategic partnership of co-development and cooperation that is characterized by growth, tangible customer value and thought leadership. Run Better Together!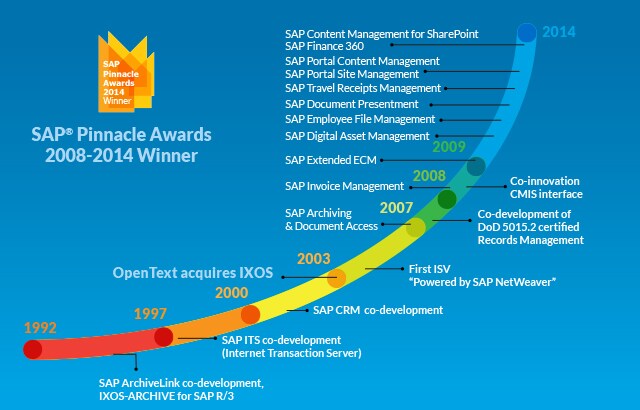 Joint Portfolio - SAP Solution Extensions by OpenText
2013
SAP Content Management for Microsoft SharePoint by OpenText
2012
SAP Document Presentment by OpenText add‐on for business-correspondence
2011
SAP Portal Content Management by OpenText
SAP Portal Site Management by OpenText
SAP Travel Receipts Management by OpenText
Optical Character Recognition Option for SAP Travel Receipts Management
2010
SAP Document Presentment by OpenText
SAP Employee File Management
SAP Digital Asset Management by OpenText
2009
SAP Extended ECM by OpenText
2008
SAP Invoice Management by OpenText
Optical Character Recognition Option for SAP Invoice Management
2007
SAP Document Access by Open Text
SAP Archiving by OpenText
Contact OpenText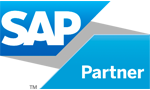 Breaking News
SAP and OpenText to Accelerate Global Adoption of Enterprise Content Management
Learn more
Hot Off Factory-made:
Tempo Box For SAP


Learn more

SAP Pinnacle Awards 2015 Winner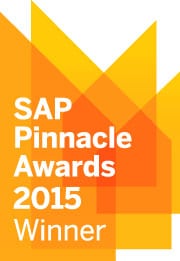 OpenText is pleased to be recognized as a SAP Pinnacle Awards 2015 Winner "Solution Extension Partner of the Year" in the category Value Creation. This category recognizes partners that extend soluiton offerings, drive shareholder value, create new and innovative business models, accelerate the impact of technology investments and help customers transform their business.
Certification