OpenText Document Management eDOCS Edition (eDOCS DM)
A single, centralized repository to manage, secure, and easily access your collective work product
According to McKinsey & Company, employees spend 1.8 hours a day – almost 20% of their work week on average – searching for documents. In many cases, they can't locate them and need to re-create them. In other situations, documents containing key information are not retrieved and critical decisions are made based on incomplete data.
In document intensive industries, the inability to surface a complete set of relevant work product – all the various pieces of information related to a client, project, or matter – seriously impacts the decision-making process, hinders productivity, and limits competitive advantage.
OpenText™ eDOCS DM effectively tackles "content chaos" and the inability to manage growing content stores. As the platform module for the eDOCS Suite, eDOCS DM provides a single, highly scalable library for all your work product. With eDOCS DM, all your work product including: documents, email, graphics, PDF's, engineering drawings, scanned paper and electronic-based records, is consolidated, integrated, and easy to retrieve for optimal efficiency and productivity.
Benefits
Flexible and intuitive user experience that 'works the way you do' – for improved user productivity and user adoption
Powerful metadata approach and search capabilities – for complete and rapid retrieval of related and relevant information
A single library with capacity for over 250 million documents – for reducing the cost of managing your content over other less scalable solutions
Scalable platform and distributed architecture – to maximize system availability and performance whether on premises or in a hybrid cloud deployment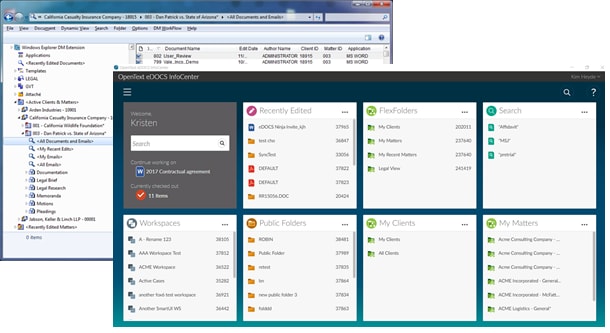 eDOCS DM interfaces: classic "DM Extensions" and modern "InfoCenter" dashboard
Business Needs Met
Solve your key business challenges with eDOCS DM:
Improve user productivity – Our metadata approach and powerful search return a complete set of work product – so users can work quickly and make decisions based on complete information.
Increase user adoption and content capture – Multiple interfaces allow users to work the way they find most productive. Engage eDOCS DM using our Classic DM Extensions, to work from the ribbon of familiar Microsoft applications, or InfoCenter – a modern 'tiled' dashboard that is easily customized to user preferences.
Reduce IT Costs – The DM Management Studio provides centralized IT manageability for simplified administration – whether deployed on-premises or in a private cloud. In addition, users are notified when a software update is available for download (via InfoCenter).
Boost your performance with a tailored solution – access a wide range of companion products to tailor eDOCS to your specific needs – including enhanced email management, records management, workflow, business process management, SharePoint integration, mobile access, enterprise search, and much more. Also available is a rich network of partner solutions and a flexible API for building custom solutions.
Contact OpenText
Downloads
Download more information about OpenText eDOCS DM: