The Dutch Ministry of Defence
Orchestrating all processes in one single integrated platform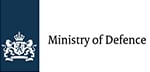 Dutch Ministry of Defence streamlines their existing 3,000 applications with OpenText Cordys to manage, monitor and optimize their business processes with unparalleled ease and cost effectiveness
Hear from Lt. Colonel Erwin Huisman as he describes how the Dutch Ministry of Defense utilized OpenText Cordys to migrate off legacy systems and onto one platform.
Challenge
Support dynamic needs at lowest cost
Faster response to changing needs
Reduce the cost of maintenance
Product(s)
Value
Increased flexibility, speed and quality
Decreased maintenance costs
Harmonizing and modernizing scattered IT landscape
Uniformity of processes
Real time process monitoring and data access
About
The Netherlands Ministry of Defence comprises the Central Staff, the Royal Netherlands Navy, the Royal Netherlands Army, and the Royal Netherlands Air force, the Royal Netherland Marechaussee, the Support Command and the Defence Material Organization. It is one of the largest employers in The Netherlands with more than 78,000 employees. This includes men and women in uniform serving in the armed services and organizational departments. There are approximately 20,500 members of staff working as civilian labor force, mainly in the armed forces administration and in support areas.
Read the Full Story