Alagasco
Alabama Natural Gas Distributor Energizes Sales Force with OpenText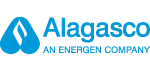 Centralized content management integrated with SAP increases employee productivity and enhances service
When we understood Extended ECM for SAP Solutions would embed documents in SAP CRM that we could not only see, but also route for approval, it was really a no-brainer.

— Jim Rutland, CRM Support Manager, Alagasco
Hear from the Alagasco team as they describe how OpenText solutions allowed them to break down organizational silos, speed up sales processes, and maintain business continuity.
Challenge
• Ineffective content management to support business processes
• Sales process hindered by non-integrated, disparate internal systems
Product(s)
Value
• Easy access to all customer data and documents increases sales representative productivity
• Integrated solutions result in internal cost-savings and efficiencies
• Consistent, widespread access to customer information leads to improved business continuity
About
Alabama Gas Corporation (Alagasco) is the largest distributor of natural gas in Alabama and a subsidiary of Energen Corporation, a Birmingham-based oil and gas exploration and production company. Alagasco provides natural gas to close to half a million homes, businesses, and industries in central and north Alabama.
Read the Full Story