KMD
KMD Evolves Software as a Service (SaaS) Solution with OpenText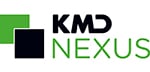 OpenText Analytics provides fast, flexible, embedded analytics, and reporting for end users.
Challenge
Existing BI tool lacked flexibility, providing report manipulation for end users would be costly and time consuming
Time taken to produce reports was too long
Required economically viable solution for unknown number of end users
Lacked single solution for reporting and scheduling
Product(s)
Value
End users can "slice and dice" reports as needed, reducing time and IT costs
One solution for reporting, dashboards, visualizations, and scheduling
Reports, dashboards, and visualizations can be produced in seconds, not minutes or hours
Supports unlimited number of end users
About KMD
KMD is the largest IT company in Denmark, employing about 3,000 staff. It develops and provides software and services solutions for public sector and corporate organizations. KMD has played a key role in the digitization of the Danish welfare state for 40 years. Its systems handle payments of salaries and social benefits totaling approximately 400 billion Danish kroner per year, equivalent to more than 20 percent of Denmark's GDP. Around one million Danes in the private and public sector receive their monthly salaries through KMD payroll.