EnCase Certified eDiscovery Practitioner Program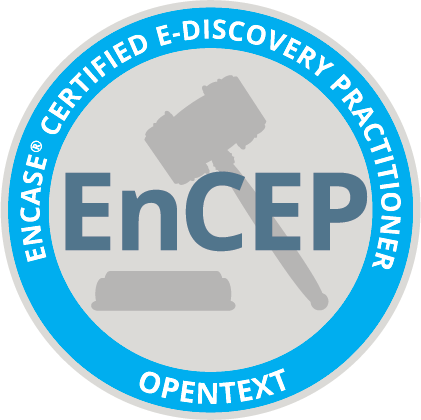 The EnCase® Certified eDiscovery Practitioner (EnCEP) program certifies private- and public-sector professionals in the use of the OpenText EnCase® eDiscovery software as well as their proficiency in e-discovery planning, project management, and best practices, spanning legal hold to load file creation. EnCase eDiscovery is the leading e-discovery solution for the search, collection, preservation, and processing of electronically stored information (ESI).
Earning the EnCEP certification illustrates that a practitioner is skilled in the application of the solution to manage and successfully complete all sizes of e-discovery matters in accordance with the Federal Rules of Civil Procedure.
EnCEP requirements and process
Step 1: Training and experience requirements
You need to have attended the live EnCase eDiscovery training course AND have three months of work experience in e-discovery collection, processing, and/or project management.
Step 2: Complete the EnCEP application
Download and complete the application and send it to the Certification Coordinator:
Guidance Software, Inc.
Attn: Certification Coordinator
1055 East Colorado Boulevard Suite 400
Pasadena, CA 91106-2375
EnCaseCertification@opentext.com
The test cost is USD$125.00 ($150.00 International), which includes:
Phase I and phase II tests delivered online with the ExamBuilder engine
EnCEP certificate and wallet card upon successful completion of the program
Step 3: Register for test
Once the application has been received and approved, you will:
Be contacted by the Certification Coordinator for the certification test payment by credit card, check, or purchase order
Receive, via email, the registration information to take the EnCEP test online
Step 4: Take phase I (written exam)
With the information provided by the Certification Coordinator, log onto ExamBuilder to take the phase I computer-based written exam. You will have 1.25 hours to complete the test of 100 questions drawn from a pool of about 200.
Minimum passing score is 80%.
If the candidate's organization or personal information changes prior to retesting, a new application will need to be submitted.
If you do not pass this test, you can retake the test within 30 days. If you are not successful on the second attempt, you must coordinate with the Certification Coordinator for retesting after a 30-day waiting period. After three unsuccessful attempts, a candidate would need to reapply for the EnCEP program.
Step 5: Take phase II (practical exam)
Those who pass the phase I test will be registered for phase II scenario exam online.
The phase II scenario exam tests the candidate on the use of EnCase eDiscovery in scenarios and case studies, utilizing the skills taught in the EnCase eDiscovery course.
The candidates are allotted 3.5 hours to complete the phase II exam.
Candidates must complete the phase II test within 30 calendar days of being scheduled for the phase II test. Extensions of up to seven (7) calendar days may be granted by the Certification Coordinator on a case-by-case basis.
The candidate must receive a score of 80% on the phase II test to pass.
If a candidate does not complete the phase II test within the time allotted them, they will be required to start the EnCEP process over at phase I. Requests for an extension must be made in writing and will be evaluated on a case-by-case basis.
If a grade of 80% to pass the phase II test is not obtained, the test can be retaken within 30 days. If a second attempt is not successful, you must coordinate with the Certification Coordinator for retesting after a 30-day waiting period. After three unsuccessful attempts, a candidate would need to reapply for the EnCEP program. A new application will be needed if organization of personal information changes during the waiting period.
Step 6: EnCEP Certification and renewal process
Those who pass the phase II exam will be notified via email and then issued an EnCEP certificate and wallet card.
EnCEP certifications are valid for three years from date obtained. Detailed information about the renewal process and submitting renewal credit is available on the EnCEP Certification page.
Please be aware EnCEP examiners are responsible for knowing their certification expiration date. Should your certification expire, you will be required to restart the EnCEP process from phase I. Extensions will not be granted. If you are unsure of your expiration date please email EnCaseCertification@opentext.com.
Contacting any EnCEP examiners or trainers while you are undergoing the EnCEP testing process (phase I and II) will be considered cheating and result in immediate failure and exclusion from future testing.
If you have any questions regarding EnCEP please contact EnCaseCertification@opentext.com.