Remote Access Software – OpenText Exceed TurboX
Web-based remote access software for UNIX, Linux and Windows desktops and applications
Product Overview
What is a Remote Desktop or Application?
Remote desktops and applications reside on computer systems that are in a different location than the employee. Using remote access software solutions, such as OpenText™ Exceed™ TurboX, they are accessed through the web, allowing employees to interact with it as if it were local. Exceed TurboX is one of the best remote access software solutions for UNIX, Linux and Windows.
Exceed TurboX enables virtualization of graphically demanding software solutions where responsiveness and session resilience are key. At the same time, Exceed TurboX can be used for the virtualization of standard business desktops, giving organizations one tool for successful virtualization projects.
Exceed TurboX Remote Access Software Features
High performance remote graphics: Finding a fast and high-quality remote access solution for graphical applications is a top priority for many businesses. Engineers, doctors and designers are among the list of professionals that require extremely accurate display of applications over the WAN. An incorrect diagnosis or a misplaced wire in a CAD model could result in a mistake that costs millions of dollars and affects lives. Exceed TurboX offers unrivaled pixel-perfect drawing and precise color rendering, increasing productivity and the quality of work.
Suspend and resume: With ETX, users can manually suspend their sessions at any time and resume them on any computer. By giving users the ability to suspend sessions at will, ETX grants user's freedom of movement and unties them from physical computers.
Software crash protection: ETX helps companies stay productive by shielding their users from the frustration of lost work due to network failures. ETX detects network connection disruption and automatically suspends sessions. ETX keeps applications in the user session running even if the user is disconnected from their application servers.
Ultra-low bandwidth usage: Exceed TurboX is up to 90 percent more bandwidth efficient than traditional X servers, thanks to the highly efficient ThinX Protocol. ETX adapts to a variety of network conditions while ensuring high quality remote display.
Supercharged sharing: In a globalized economy, projects require collaborative work from a team of international members. With Exceed TurboX, users from around the globe can share projects and ideas in real time over the internet, by taking advantage of desktop and application sharing for both Windows and X Window sessions.
Centralized administration and user management: Administrators can monitor and manage Exceed TurboX from any location using a web browser on any computing device. Exceed TurboX keeps users and access management in a centralized database. It reduces the administrative headaches of managing disparate user communities and empowers administrators to control application access on the user and group levels.
New in Exceed TurboX 12.0
Simplified architecture: Exceed TurboX 12 eliminates the need to install and manage an external database. The new internal data store eliminates a wide variety of administration tasks, such as database hosting, scheduled backups and database replication.
Integrated high availability: Exceed TurboX 12 servers can now be deployed in a highly-available server "cluster", providing high availability access to ETX Server with maximum uptime. Each server in the HA cluster is active to distribute sessions to each ETX Server in the cluster by means of a front-end web load balancer.
Easier administration: The installation process for ETX Server has been simplified into two steps: Extract the files and start the server. Configuration can be fully automated from the command line and all properties can be set through the ETX server manager (web console).
Enhanced IP protection: ETX supports organizations to protect their IP in a locked down data center. Systems can be configured so that internal and external users are unable to print locally, transfer files from the server or copy content to the local clipboard.
Benefits of Exceed TurboX Remote Access software
Enables benefits of desktop virtualization for all users, including users of graphically demanding software.

IP protection: Data and applications only reside in a well-protected datacenter. ETX can lock down file, printing and clipboard access for remote users.
Cost savings: Sharing hardware and license resources results in huge cost savings.
Centralized data removes the need for complicated and time-consuming synchronization between user workstations

Exceed TurboX keeps remote users happy and productive

Exceptional responsiveness for high-performance graphical applications. Zoom-in, zoom-out and interact with complex graphical models with almost no lag.
Extremely stable sessions with an external session proxy prevents loss of work due to network disconnections or software crashes.
Suspend and resume from any device.

IT benefits

Simplify IT infrastructures by managing UNIX, Linux and Windows applications from a single platform
Increase datacenter density and scalability with NVIDIA GRID vGPU support
Reduce WAN bandwidth usage by 90% with ThinX transport protocol
Manage server infrastructure, applications and users from a central web interface

Global collaboration

Share remote sessions
Pass control between users in a shared session
Hire experts wherever they live, remote access integrates them into a global team of highly-specialized employees.
Free Remote Access Software Trial
Fill out the form and an OpenText expert will contact you with instructions to start your free trial.
Contact OpenText
What industry experts say about Exceed TurboX
What analysts say about Exceed TurboX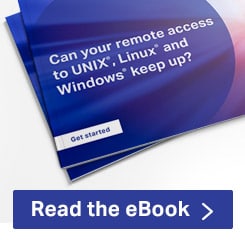 Certifications & Support