OpenText Business Center for SAP Solutions
Approximately one third of all data in SAP Business Suite comes from external business partners — customers, suppliers and service providers.
OpenText™ Business Center for SAP® Solutions accelerates your SAP business processes through the end-to-end automation of capture and processing of business data and documents. To be digital outside, organizations have to also be digital inside. With OpenText Business Center for SAP Solutions, you close the gap between the outside world and the inside processes by digitizing your communication channels.
Better Engagement

OpenText Business Center for SAP Solutions allows you to speed up your processes with customers, suppliers and partners, improving your communication and your engagement on all levels.

Integrated outgoing communication through OpenText™ Document Presentment for SAP® Solutions gives you the opportunity of immediate communication back to customers and business partners, improving your engagement levels even further.

An end-to-end Fiori app speeds up communication and cooperation and helps employees to decrease the time spent on administrative tasks, making data entry and approvals faster and simple to use.

Better Productivity

End-to-end process automation reduces process cycle times and errors, while preconfigured scenarios (for example, sales orders) help to reduce time to value and digitize more of your business. In addition, OpenText Business Center for SAP Solutions provides an encompassing view on the complete process, including the status of all SAP business objects involved in the process.

Better Innovation

Being flexible and agile is crucial in a Digital World in order to remain competitive and successful. With OpenText Business Center for SAP Solutions, you can create and change your own solutions faster. You are flexible to adapt to new market demands and you have better insight into what needs to be adapted.

Better Insight

With the connection to your preferred analytics solution (SAP Lumira, SAP/4HANA, OpenText™ Analytics), you can analyze your business processes, identify bottlenecks and find new ways to improve your business. You make better decisions based on detailed information.

Better Control

Incoming documents and information are accessible from the moment the information enters the company and is captured (via paper, email, fax or EDI). This gives you control over the complete process. You are able to answer all customer and partner requests immediately. Your ability to immediately respond makes your company a more trustworthy and valued partner for customers and suppliers.
Pre-Configured Scenarios
The following processes are pre-implemented:
Sales order processing
Purchase orders / purchase requisitions monitoring
Incoming delivery notes
HR mailroom
And more will be released over time.
Functional Overview
Capturing component:

Adaptive self-learning allows for simple "on the job" training on the capturing module, saving implementation time and ensuring continuously high recognition quality


Processing:

The process foundation accelerates process implementation so every ABAP consultant can adapt and reconfigure processes efficiently, saving implementation time and making adaptation more agile


Mobile app:

The Fiori app allows non-SAP users to make workflow approvals in a simplified UI on their mobile device, saving time on training and administrative tasks


Tightest SAP integration:

Capturing, workflow, data validation and creation of new SAP business objects all occur in one environment, reducing time on training and simplifying user interactions
Contact OpenText
SAP Pinnacle Awards 2020 Winner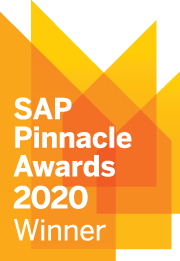 For the 13th consecutive year, OpenText is proud to be recognized by SAP® with the Pinnacle award for Solution Extension Partner 2020. SAP presents these awards annually to the top partners that have excelled in developing and growing their partnership with SAP and helping customers run better. OpenText's breadth of leading solutions deliver the information advantage to SAP customers, today and in the future.