Enterprise Content Management in the Cloud

OpenText Core
Extend the value and functionality of existing enterprise content management investments with secure and easy-to-use sharing and collaboration between internal and external collaborators
OpenText Core overview
OpenText™ Core is a SaaS application that provides all the functionality to securely share and collaborate on projects with everyone inside or outside of the organization. Core integrates seamlessly with OpenText Enterprise Information Management (EIM) solutions, including the OpenText™ Content Suite Platform and OpenText™ Documentum™, to help extend the value of existing ECM investments into the cloud. Core's unique ability to enable both a hybrid environment and a full cloud experience sets it apart from other major file sharing offerings.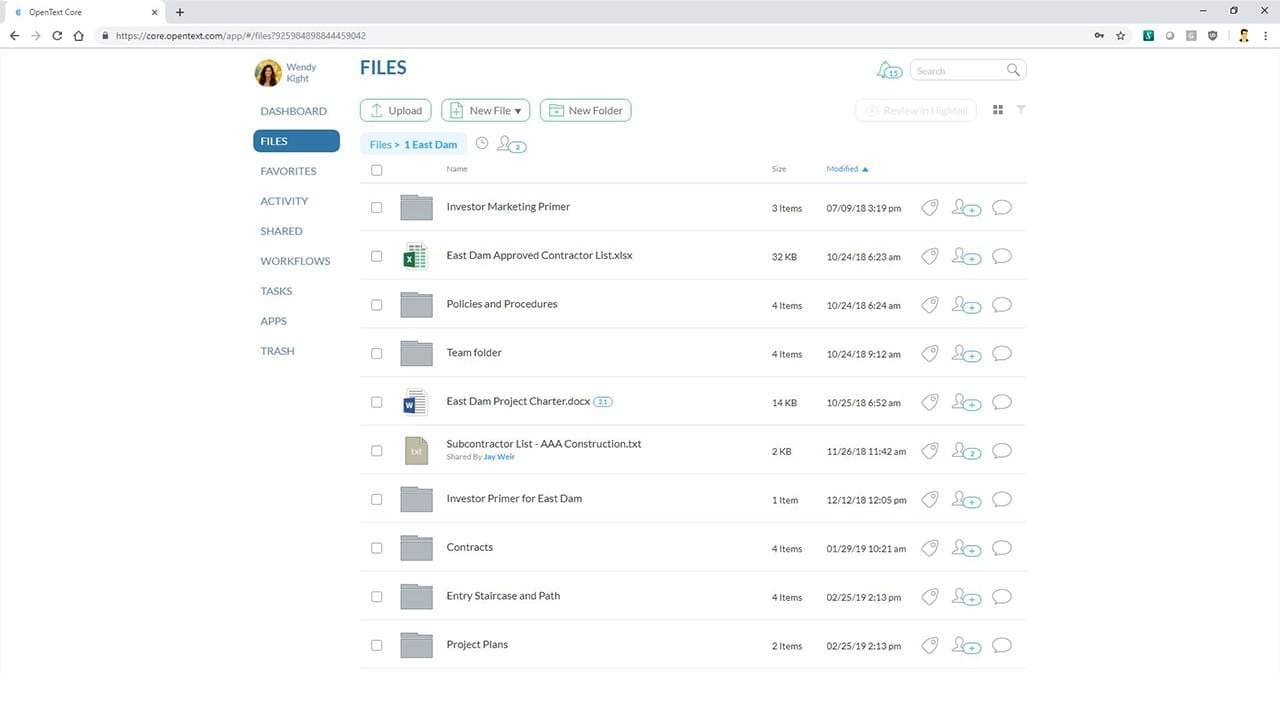 Simple and intuitive for users, Core provides the security and stability that IT departments require and can be accessed on all device types. Users receive contextual notifications and can use the audit and version history to track their activity. Core is easily deployed and integrated with existing content management systems to extend collaboration beyond the corporate firewall, while incorporating enterprise level security and compliance.
Features in Core
Enterprise Grade Security in the cloud

Security is of paramount importance when it comes to cloud based content collaboration, especially in light of the recent, highly publicized data security breaches. Made for enterprise, Core was built from the ground-up with security at each layer of the solution stack, in its infrastructure, platform and application software.

With Core, IT can configure and automatically enforce global policies for sharing with external users and password requirements, as well as set expiry dates to retract shared content and public links. File encryption is in place whether data is at rest, in transit, on mobile devices and/or in the cloud. Other security features include Single Sign On (SSO), Two-Factor Authentication (2FA) and the utilization of highly secure OpenText data centers. With Core, there is no need to worry about data security.

Integrates with existing ECM systems

Core easily and seamlessly integrates with the existing OpenText ECM product line, including OpenText Content Suite, OpenText Documentum and OpenText eDocs. Organizations can put existing and new content in the cloud using Core.

IT and Administrative Control

Core allows IT to retain complete control over content sharing by/with employees, customers and partners. Dashboards and reporting views provide administrators with the required visibility and analytics. The user management feature lets administrators create accounts, control access, assign user storage quotas, lock and disable accounts, view connected users and remotely wipe local content on mobile devices.

Workflows automate process and ensure accountability

Core Workflow allows users to go beyond simple file sharing and create workflows to aid in the document approval process, adding structure and timing to their document review process. Workflow helps improve auditability and keep projects on task. IT Administrators can set up Workflow templates to further simplify the process for users.

Offers seamless integration with Microsoft Office 365

Core's seamless integration with Excel, Word, PowerPoint and Outlook enables users to create, modify, co-author, share and store files, without moving between applications and files, in the cloud. Users can create Microsoft Office 365 documents within Core, rather than creating them on their PC and uploading manually, and update documents in realtime.
Benefits of Core
Security at the Core

Business-critical data is exposed to risk when employees continue to share documents via email or sidestep corporate systems in favor of consumer cloud storage tools. With Core, employees will not feel compelled to find alternative methods of collaboration, and private corporate information will stay that way.

Improved adoption

With the intuitive experience that users expect, Core makes it easier and more efficient for users to share files with third party collaborators from existing content management systems. Features, such as metadata and favorites, make finding files easier. As a result, users are more likely to adhere to organizational policies on information management and keep confidential data secured at every level in the communication and collaboration process.

Easy deployment and management

Core is a SaaS application and can be set up and ready to use in a matter of minutes. It is easy for administrators to manage and control, and the features provide IT with the confidence that corporate security policies are being upheld.

Streamline and track project progress

Workflows allow users to add structure and institute efficient processes for quality assurance, reviews, approvals and more. Using advanced options, users can easily search the workflow for an instant status update. The Audit Trail feature also provides a snapshot of what has been shared, by and with whom, both internally and externally, and offers export capabilities.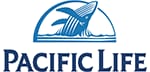 Core for industry
Secure internal and external file sharing is beneficial across a broad array of industries.
For example, Core can serve as a fundamental part of the Legal process, helping Attorneys sharing files, evidence and depositions with clients, expert witnesses, outside counsel and court officials. Outside Counsel can collaborate on and submit files for review with co-counsel. Clients can review and provide feedback on billing and case-related matters. And of course, Paralegals and administrative staff have the ability to easily distribute dockets, upload redline docs and collaborate with accounting.
Investment firms and other financial institutions can also take advantage of the fast, simple and secure file sharing and collaboration that Core provides. Communicating and collaborating with branches, customers and key clients in their preferred manner, is key to delivering exceptional client experience.
Regardless of industry, Core provides all the functionality needed to securely share and collaborate on work with everyone inside or outside the organization, all while reducing costs.
Core Integration overview