Managed Private Cloud Services
OpenText Managed Private Cloud Services

Overview
Services
Products
Accelerated Solutions
Overview
How can you balance the need to reduce costs, cut resources and address information security with the demand for better business information responsiveness, scalability, and agility?
Managed Private Cloud Services (MPC) from OpenText combines the benefits of a cloud solution with the security and control of an on-premises deployment enabling organizations to manage, exchange, and socialize enterprise information in an easy and scalable cloud. Managed private cloud services enable organizations to:
Maintain control and management of core assets while still moving to a cloud environment
Address a resource gap in skills and bandwidth with subject matter experts
Optimize operating costs through flexibly pricing and deployment strategies
Enable organizational elasticity for faster turn around and business agility
OpenText Managed Private Cloud Services helps reduce the cost, time, and staff needed to care and drive your OpenText solution. Use MPC to eliminate the need for CAPEX investment in infrastructure and free up your expert IT staff to concentrate on other business critical items. MPC Solutions can also accelerate your deployment scenario, allowing you to reach go-live, enablement and return on investment in a shorter time frame.
Services
Managed Private Cloud Services provide operational management for your business process backed by a global infrastructure, subject matter experts, 24X7 customer support, and clear SLAs.
Managed Service

24x7 monitoring and response, unified product support
Backup, restore, incident recovery, tuning, health scans, updates
COBIT and ITIL based procedures and controls

Facilities

24x7 video surveillance with on-site security personnel
Enterprise grade global datacenter network

Security

Biometric, electronic key access, 24x7 onsite and CCTV
HTTPS, IPS and redundant firewalls, off-site secure data storage

Connectivity

Fault tolerant global IP backbone
Accelerated CDN options

Architecture

Network fault tolerance with load balancing and enterprise storage
Scalable, fault tolerant application and database services
Products
Some of the OpenText products available as Managed Private Cloud include:
Enterprise Content Management
Customer Experience Management
Business Process Management
Information Exchange
Discovery
Ecosystem
Accelerated Solutions
Business Transformation in 30 Days
We don't think that getting up and running in the cloud should only be for simple consumer-based apps. Your business is not always simple. Wouldn't it be nice to take your complex business process, connected to your business content, and be up and running quickly and easily without massive project plans, infrastructure delays, resource shortages, and cost overages?
OpenText offers Accelerated EIM Solutions in the Cloud. Based on over 20 years of expertise in enterprise information management, we have gathered some of the most common, yet often complex, business processes that our customers have implemented and packaged them for fast, simple, and easy deployment in the OpenText Cloud.
30 Days to the Cloud. Analysis, knowledge, content, process, and planning have all gone into the development of these Cloud Accelerated Solutions, making them ready to deploy within 30 days from your project start date. OpenText has created the foundation for each solution. You add your unique requirements, customizations, and users, and accelerate your business in the cloud.
One Easy Price. We reduced all the complexity of gathering business requirements and developed pre-packaged services for one simple price. We made it easy and efficient to deploy your business in the OpenText Cloud.
Featured Cloud Accelerated Solutions
Cloud Accelerated ECM provides a low-risk solution for setting digital content policy and standards for key departments. Within 30 days, business users can quickly deploy collaborative, business process-centric workspaces with pre-built taxonomy, built-in metadata, and compliance capabilities. Cloud Accelerated ECM will significantly improve your ability to maintain productivity while structuring and managing digital content, leading to stronger buy-in and quicker adoption.
Contact OpenText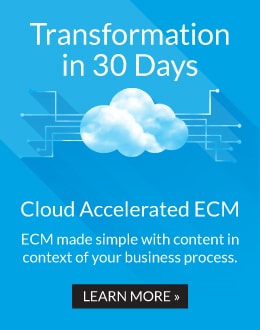 Featured Download: Managed Services in the Cloud