OpenText Tempo Social
Putting Social to work!
Social Media is an important element of any online or knowledge management strategy, but more importantly, it is fundamentally changing the way people connect with each other and the way organizations interact with people: customers, partners, stakeholders, and employees.
But it isn't your whole strategy
Social Media promises to break down walls and open communication channels, but for many organizations this promise falls short. Social Media isn't a strategy; it supports your strategy. Social Media can deliver value once it becomes part of a larger initiative that recognizes other factors at play such as business process, change management, employee education, and adoption.
Business-centric and purpose-driven social features enhance the web experience
OpenText Tempo Social provides easy-to-use social apps that can socially charge your current business processes in a safe and compliant fashion that helps fuel a more immersive user experience both for the social workplace and the social web.
Creating a Social Workplace: Organizations can work more efficiently and connect more easily simply by leveraging social features such as blogs, wikis, or forums.
Augmenting Social Marketing: Enabling an online dialogue between your users and customers—whether it's B2B, B2C, or B2E—can help create and retain customers, increase wallet-share with existing customers, and create raving fans that can help increase your brand reputation.
Building a more Social Intranet: Encouraging employees, customers, and partners to collaborate on a platform that enables two-way communication can help increase bottom-up conversations so all users can discuss their ideas in social forums and communities.
The Social Collaboration App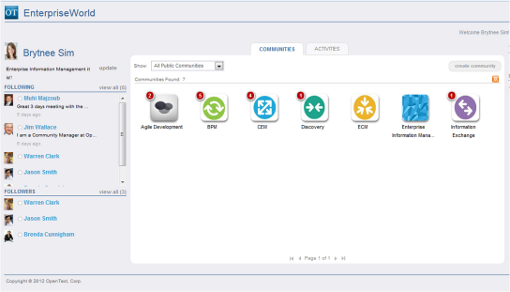 The Social Intranet App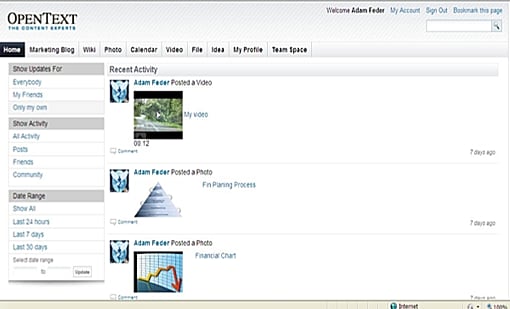 The Social Marketing App
Delivering a complete Social Media Framework
Tempo Social offers seamless integrations with the ECM Suite that can help deliver a complete social media framework to help our customers support a more social business. Its integration with:
OpenText Content Server provides the ability to archive all social content to help ensure that content is properly managed, delivering Social Compliance for our customers.
OpenText Web Recommendations allows users to tap the collective wisdom of visitors to automatically present content that's meaningful to visitors to increase engagement.
OpenText Web Social Search brings the most useful content to the surface based on the intent of site visitors and what information they find relevant—search that returns the exact information visitors want.
OpenText Wave, OpenText's Mobile Enterprise Application Platform, enables organizations to create, develop, and deliver compelling mobile applications to connect employees, partners, and customers—anytime, everywhere!
Standard social features such as blogs, wikis, forums, communities, photo and video libraries, file management, calendar, tags, and ratings, as well as:

Events/calendar management
Idea management
Social networking
Video, photo, and podcast sharing

Inline moderation to protect the quality of content and your brand, with easy-to-use dashboards that let you approve or reject user-generated content
Activity feeds to keep your finger on the pulse of the activities taking place on your social sites
Ready-to-deploy social applications for Social Intranet, Social Marketing, and Social Workplace to easily create compelling social sites designed in a business context
Reusable and adaptable site templates to give you flexibility to combine the necessary features to meet your specific goals, such as launching a brand, product, or campaign
Social Community Workspaces for creating and managing sites in a few simple clicks
In-context editing console for modifying and previewing a site before enabling the site for end users
OpenID, OAuth authentication support
Ability to post content securely from the community site to Facebook®, Twitter™, or Google to help extend sharing between third-party social networking sites and a community site
Social networking features to allow users to follow and receive updates on user activity; in a community, users can follow or friend users based on the use case needs
Presence and online chat to view when a user is online and initiate a live chat
Contact OpenText
Featured ECM Downloads
Information Governance
Compliant Archiving
Products in Action
See how organizations are using this product as part of a Customer Experience Management solution...more »
featured download
Download more information about OpenText Tempo Social: