Automated cloud-based legal hold and preservation

OpenText Legal Hold
Drive error-free, efficient and defensible legal hold and collection tasks using the power of automation and the cloud
What is legal hold software?
Legal holds arise from the duty to preserve information for pending or reasonably anticipated litigation. Those covered by the hold, as well as the organization itself, must stop deleting and preserve potentially relevant data while the hold is in place. Many companies manage holds using email and spreadsheets, which is inefficient and may subject the company to unnecessary risk, especially when managing multiple holds at once, or when key employees administering the holds have left the company.
Modern legal hold software automates the interrelated legal hold, data preservation and collection activities. These solutions automate processes, speed legal teams' access to relevant information and reduce reliance on IT teams.
OpenText Legal Hold overview
OpenText™ Legal Hold is a simple, powerful cloud-based legal hold and preservation platform that helps law departments comply with legal hold obligations, be more efficient and automate time-consuming and risky manual processes.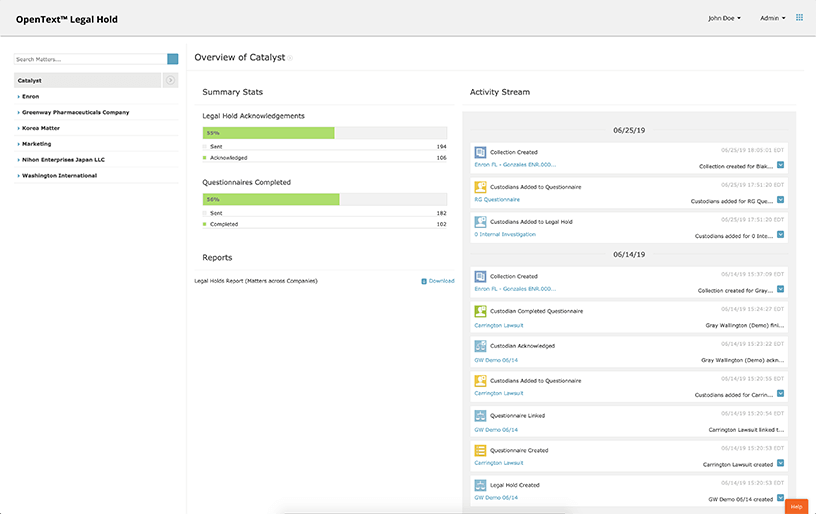 Reducing the complexity and pain of legal holds and data preservation efforts, Legal Hold automates interrelated hold, preservation and collection activities to drive greater efficiency among legal, HR, compliance and IT teams. It also automates hold issuance and tracking, integrates with IT and HR systems, sends employee questionnaires, automates enterprise triggers for IT task suspension, provides defensible tracking and audit trails and more.
Using Legal Hold, legal teams can:
Minimize risk and eliminate costly mistakes
Increase efficiency with automation
Apply expert workflows designed to meet specific legal requirements
Reduce costs with cloud deployment
Using the platform's agentless remote collection tool, legal teams can further reduce reliance on IT by collecting discreetly from custodians located anywhere in world. Once collected, data can be preserved, archived or promoted for review.
Free eDiscovery software demo
Have questions? Contact us
Resources
Related solutions