OpenText Big Data Analytics Free Trial
Download your free trial and make the most of your data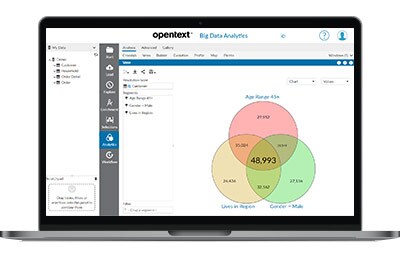 The best way for you to understand the speed, effectiveness, and agility of OpenText Big Data Analytics is to see it in action.
Quickly discover the insights hidden in your data
Download, install in seconds and start performing advanced analytics with a few clicks. Minimal system requirements -8GB of Memory and 1GB of free disk space- and no IT intervention needed!
Experience exceptionally high performance on big data
When you need to analyze millions to billions of records, time to value is everything. Big Data Analytics runs in a lightweight server that allows you to effectively analyze massive volumes of data almost instantaneously.
Get all your data in a single view
Try it with the demo data provided or load, blend, transform and analyze your own data, no matter the source, with no need for cubes, metadata or aggregates.
Explore predefined analysis ready to use
Big Data Analytics comes equipped with a selection of some of the most common predefined analysis, such as "who are my top 100 customers" and "what is the next best offer", so you can extract value from your data even easier and faster.
Download and Try Now
45-day Free Trial