OpenText Information Hub Free Trial
Download and Try Now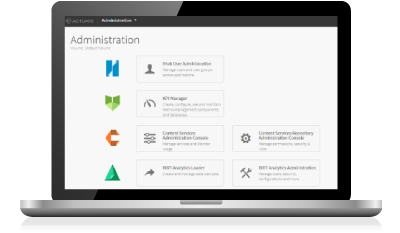 Try the free, fully functional 45-day trial version of the enterprise-grade deployment server from OpenText™. It includes multiple sample applications, reports and dashboards that help you understand how to design, deploy, and embed analytics into your application.
Accelerate time-to-market for your analytics applications with out of the box features:
INTERACTIVITY: Allow business users to modify and personalize reports
DASHBOARDS: Enable self-service for business users
SECURITY: Apply comprehensive, flexible security features that protect your data
SCHEDULING: Automate content generation and notification
SHARING: Secure information sharing
EXPORTING: Export content in multiple formats including native live Excel sheets with formulas and pivot tables
INTEGRATION: Use APIs with broad functional coverage to embed dynamic visualizations in your web or mobile app
Available for Windows, Linux or VMware
System Requirements
System Requirements
Windows
Server Machine OS:
Windows 7 SP1
Windows 7 Professional
Windows 8.1
Windows Server 2008, 2008 R2, 2012 Standard, 2012 R2
Server Requirements:
Windows: x64 compatible
RAM: 8 GB minimum
Free Disk Space: 3 GB minimum
Linux
Server Machine OS:
Red Hat Enterprise Linux RHEL 5.10, 6.1 - 6.6, 7.0
SUSE Linux Enterprise Server 11 SP3
OpenSUSE Linux 12.2, 13.1
CentOS 6.5, 7.0
Oracle Linux 5.5
Server Requirements:
Linux: x64 compatible
RAM: 8 GB minimum
Free Disk Space: 3 GB minimum
VMware Image
Host Machine Requirement:
Virtual Machine uses:
CentOS 6.5, 7.0
4 Virtual CPU's
RAM: 8 GB
Free Disk Space: 15 GB
To get the best experience, we recommend that you also download OpenText Analytics Designer.
Download iHub Trial Now
File Size: 1.0 GB