OpenText Translator for Content Suite Platform by Cassia
By Cassia Content Management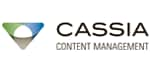 Our translator tool is an enterprise class software module which extends the multilingual capability of OpenText Content Server to include Content Previewing, translated searching, and seamless multilingual Attributes, Facets, Columns and Reports.
Our translator tool a software product for Content Server that significantly improves search and collaboration for organizations whose information is created and stored in multiple languages.
Details
CONTENT PREVIEWER feature empowers users to understand all content; not just content in their own language. ASSISTED SEARCH expands the Search and Collaborative capability of Content Server - users find information in several languages (think ATIP benefits!).
MULTILINGUAL METADATA provides greater adoption and ease-of-use for users for facets, columns, adding content, and integrations. A true multilingual User Interface.
MULTILINGUAL REPORTS consolidated into single global view in language of User Full compliance with Official Languages legislation Ideal where information is created and stored in multiple languages.
Cassia Content Management