SYSTRAN Enterprise Server
By SYSTRAN SAS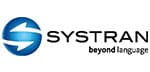 Powered by SYSTRAN's new-generation Pure Neural™ Machine Translation engines, SYSTRAN Enterprise Server combines the best attributes of rule-based, statistical and neural machine translation.
Powered by the SYSTRAN SES 8 Engines, the SYSTRAN Translation Server is the core component of a complete application ecosystem delivering on-demand automated translation.
The functionalities of the solution that come as standard with the proposed SYSTRAN solution:
Online tools - The Browser-based tools provide end-users with a robust function set that enables them to translate many types of content and have access to dictionaries. For each function, users can select the source language or let the system detect the source language, the target language and the translation profile. The 'Translation Profile' is defined in order to use the most appropriate linguistic resources, such as dictionaries and any Translation Models required.
Text Translation - Smart Translation Box (combines text translation and dictionary lookup)allows users to type or copy and paste a text into the dialogue box. The text is translated whilst the user is typing. The layout (including images) of the source text is kept during the translation to allow a quick usage of the translated material.The dictionary lookup is integrated within the Text Translation Page and is contextual, so that when the user points his cursor on any word, SYSTRAN will automatically perform a search within general and user specific dictionaries.
Web page Translation - A user will define the URL of the site to be translated. The translation will then appear in a new window with the original and translated page. Highlighting colours allow the user to establish the correlation between the source and the translated text, at a word and sentence level. Translation Bookmarklets is another option to translate any web page or application. The user will simply need to select the source and target language. SYSTRAN platform will create a button that can be dragged and dropped directly on your desired bar. By clicking on this "favorite button" any web page/application will be automatically translated without being logged in to SYSTRAN.
Automated Email Translation – SMTP Gateway SYSTRAN SMTP Translator enables users to send an email to specific addresses based on the languages and subsequently will receive a translation of the email. This service will translate both the text in the body of the email and any files attached to the email.
Document and File Translation - Users select and upload the file to translate: multi-selection and drag and drop is allowed. The result is made available to users in a queue, which can either be browsed over or downloaded. Supported formats are: TXT, RTF, DOCX, XLSX, CSV, PPTX, PDF (text or scan), XML, HTML and Open Office documents. SYSTRAN embeds an OCR technology from IRIS (Canon Group) to extract and translate text within a scanned PDF document. The OCR technology supports Asian, Arabic, Hebrew and Cyrillic characters set in addition to ISO-Latin characters used in European languages. Once a file translation is complete, the user can download it to his local machine or open the Post-Editing Tool for review and eventual modifications. Source and target sentences are displayed side by side to allow a quick review. A translation can be updated and easily added to a translation memory or a dictionary for direct re-use. All updates performed in this Post-Editing Tool are taken into account when the user downloads the file.
SYSTRAN API Access - SYSTRAN Enterprise Server embeds APIs giving easy integration of translation services within any third-party application. Calls to SYSTRAN translation services can be made using the SOAP protocol or any REST architecture. HTTPS is also natively implemented. Thanks to this API, SYSTRAN Translation solution will communicate with OpenText platforms and products. This will enable to build the automated workflow for on-going translations defined by the customer.
Translation (text or documents)
Terminology (dictionary management)
Filtering (converting files into xliff)
Language ID (identification of 60+ languages).
Details
SYSTRAN Enterprise Server v8 (SES8) is supported in virtualized environments. A Server System is defined by its entry point URL, registered users and data stored. Different machines or nodes that would share any of those are considered as one unique Server System. SES8 Workgroup and Standard Editions are limited to a single machine (or node). SES8 Global Edition is not limited in term of number of machines or nodes. Supported Operating Systems Linux RedHat Enterprise 7 64-bit or CentOS 7 64-bit Software
SES8 requires the following components:
Redis
MongoDB
RabbitMQ/Erlang
Java
For accessing SES8 web Translation Tools and User Interface, a latest generation browser, with JavaScript enabled, is recommended: Up-to-date version of Edge, Internet Explorer (minimum IE9), Chrome, Firefox, Safari or others Processor
Each core can serve the following characters/second: 30 to 60 char/sec for PNMT engines
Performances indicated have been measured on a standard physical core system (Intel(R) Xeon(R) CPU E5-2620 v4 @ 2.10GHz) using 1 instance per engine and may vary depending on the languages , the processors models…
Recommended:
8 front-end cores
+ 2 translation cores (for the first bidirectional LP)
+ 2 translation cores (per additional LP to process translation simultaneously)
Each additional bidirectional Language Pair allows adding 2 Translation Cores (physical or virtual) to the configuration. For high throughput, additional translation core license can be purchased. PNMT engines can be deployed on GPU servers to provide high performance. Please contact your SYSTRAN consultant for GPU server configuration.
RAM: A Language Pair (LP) is composed of two translation engines, one per direction. Unidirectional LP is exceptional. Customer purchases Language Pairs, and receive rights to translate on both directions. Customer can optimize his configuration enabling multiple instances of some Translation Resources that expect high workload and disabling some other instances of Translation Resources that are less used.
Now the fundamentals are the following: For each instance of an engine you need to multiply the memory requirement by the following order:
Translation Resources Model (M) embedding PNMT engines requires 4 Gb Language pairs with non-Latin scripts (Arabic, Chinese, Russian, etc.) could require more memory (up to 18 Gb)
Document Filter that embed OCR technology requires 1 Gb per instance. 2 instances are recommended.
Overall front-end modules, including MongoDB, RabbitMQ, SYSTRAN Dispatcher, SYSTRAN Translation Resource Monitor, SYSTRAN Routing Server, SYSTRAN Translation Resource Store Local require between 10 to 20 Gb according to the translation workload. In case of virtualized environment, we do not recommend memory overcommitting and NUMA .
Hard Disk - Different technologies could be mixed within the same system. Recommended technologies in priority order are: SSD (preferred) or SAS. If SAS is chosen, a controller cache of 1 GB is recommended.