migration-center
By fme AG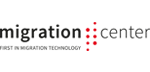 migration-center is a content migration platform, which carries out highly automated, large volume migrations without system downtime. It is a 100 % out-of-the-box software, fully documented, easy to deploy and needs no additional programming or scripting effort.
Migrating content to OpenText Content Server, OpenText Documentum or OpenText InfoArchive is a demanding challenge and asks for a powerful and proven tool, especially when content is spread around the enterprise and hidden in various file or legacy systems.
migration-center, one of the market leading products for content migrations, closes this gap. No matter if you plan to introduce OpenText as your new enterprise content management system (ECM) or if you want to replace an existing ECM platform – migration-center with its numerous source adapters and the various OpenText target adapters is the right choice for successful content migration projects. Save 60% in costs and 80% in project duration time when using migration-center compared to developing your own scripts and frameworks.
A careful look at current products on the market reveals that most do no more than simply importing documents. Any metadata transformation or document reclassification is either absent or of such rudimentary nature, as to severely limit the scope of your projects or leading to additional programming at prohibitive costs. Independent experts confirm that fme offers the most highly developed migration software available anywhere. An absolute power tool designed to handle any migration challenge with ease, which has the power to efficiently classify information objects through extensible algorithms with no additional programming or scripting effort needed.
The product, which is on the market since 2005, has been certified by leading ECM platform vendors and has proven its quality in hundreds of migration projects around the world, even in highly regulated environments. Together with our international partners we offer a global service presence to support you with your migration project or simply train you on our product.
migration-center guarantees highly automated, large volume document migrations without interrupting any of your normal business operations.
Details
Outstanding Capabilities of migration-center
Managing large data volumes - Input data is analyzed and organized into contextually consistent and manageable data sets. Duplicates are identified and reported. No volume restrictions, high performance document handling. Multiple and parallel set processing, allowing different analysts to work in parallel. Mass operations run in the background on scalable components.
Metadata transformation engine - Object attributes (metadata) are transformed through the use of functions. Per attribute an unlimited number of functions may be inserted. The output of one can be used as input to another, allowing highly complex transformation rules. Individual rules for every data set can thus be defined, specifying metadata extraction and transformation as required by the target system, the assignment of folder location, document links and access permissions, relations etc..
Central migration database - migration-center creates a full snapshot of all source system information (metadata, folder structure, relations, object types, access rights etc.). Transformation operations can thus be defined and created, then simulated and tested in real-time without moving any objects to the target system.
Real-time simulation and test - For each individual set, the migration-center allows the dynamic simulation and testing of all transformation rules before committing content to repository import, including validation against target model, automated or manual error handling, online/offline simulation and rollback. Full logging and auditing capability are standard.
Successive delta migrations - Successive delta scanning of source systems permits migration activities on live data without effecting daily business operations. migration-center automatically picks up any changes to source repositories and integrates them into the migration process.
Open connectivity architecture - The migration-center grants out-of-the-box connections to OpenText Content Server, OpenText Documentum and OpenText InfoArchive. The open architecture allows the connection of virtually any source to any target system via the migration-center framework & API.
Predefined migration approach - The typical migration process consists of certain clearly defined steps. migration-center allows the analyst to follow the same six migration phases in each project. This approach is based on best practice principles developed over hundreds of migration projects and lowers the learning curve.
For detailed information on available adapters and target platforms please visit www.migration-center.com.