AIMF
By ProcessNet S.r.l.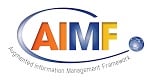 AIMF [Augmented Information Management Framework] is a Web Reports based flexible and customizable solution framework, designed to manage both content and related business info easier, faster and safer.
AIMF is not another CS module, it's a framework, a semi-finished working environment built on Web Reports Standard Technology. No use of OScript Code. AIMF is a collection of CS templates triggered by Web Reports Dashboards. The power of Web Services, Jquery, Javascript and Ajax is used to integrate data from different CS sources (Forms, Workflows, Categories, etc.) and from external platforms (PPM, ERP, CRM...). Users can have simultaneous access to both business data, and the underlying documents. User can edit any type of business data (scheduling, technical, etc…), right from the CS UI. GUI can be easily adjusted to meet managerial needs (high level business/process focus) or operational requirements (e.g. document handling). Complex business processes can be easily addressed, delivering a fantastic user experience, at very limited development costs.
Details
AIMF uses Web Reports to trigger workflows and forms to manage the entire lifecycle of Project/Process Driven Documents. AIMF uses Web Reports as Binding Agent for heterogeneous enabling technologies (EIM, PPM, Mobile Apps) to improve user experience. AIMF uses Web Reports to ensure Cross Platform Security, leveraging on CS10.x permissions.