Shinydocs
By Shinydocs Corporation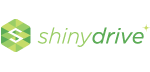 Shinydocs is social document editing. It's the easiest and most secure way to share and work together on your documents.
Work in any file format with resources outside your corporate firewall while maintaining the highest levels of encryption. Shinydocs provides desktop-to-desktop AES-256 encryption for all your files. Edit any file with a single click. Check it back with a single click, Shinydocs can even kick off a Content Server workflow. Meanwhile, users see your changes in real-time from the desktop, tablet or mobile device. Every document interaction is recorded and a full audit history along with feedback surrounding the file is retained. Tightly integrated with Content Server, Shinydocs ensures everyone is working from the latest version.
Details
Documents are encrypted from desktop to desktop and works with any application with tight integration with OpenText Content Server.