coDOCS
By Sherpas Group AB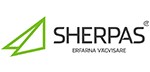 CoDOCS is the most powerful integration tool for connecting your company´s document management system with Microsoft Teams and SharePoint Online.
With coDOCS you do not need to worry about keeping documents in sync. All synchronization from SharePoint or Teams is performed automatically as soon as a change is made. The synchronization is of course bi-directional so changes made in eDOCS will also be synced to SharePoint or Teams. All supported operations can be managed using either the SharePoint, Teams or eDOCS standard user interface.
Details
coDOCS is using Public Folders in eDOCS to organize file and folder placeholders. The installation of coDOCS creates a root folder, coDOCS Root Folder.
Below this folder, a subfolder is created automatically per Microsoft Team/SharePoint Online site that has coDOCS functionality enabled. In each Team/Site subfolder another subfolder is created for each coDOCS enabled document library. For regular document libraries, not coDOCS enabled, located in the Team/Site, no eDOCS folder is created.
If you want to add files directly via eDOCS, the files should be added to the document library.
Files and/or folders that are added directly via eDOCS in the Public Folder corresponding to the Teams/SharePoint Online document library of the Team/Site, will appear the next time the page is refreshed.