Insights & Analytics for VIM
By Turnpikes Aps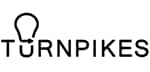 Insights & Analytics for SAP VIM offers a wide range of intuitive, interactive and visual VIM Dashboards. Take advantage of decades of OpenText VIM know-how which we have bundled into one solution.
Your Accounts Payable Team needs to be able to measure the performance of VIM (OpenText Vendor Invoice Management for SAP Solutions).
Insights & Analytics Dashboards provide an intuitive reporting solution for those who want to understand and optimize their VIM performance. The solution is cloud-based and is offered as-a-service.
It identifies, collects and refreshes the relevant data. This data is then visually presented by Insights & Aanalytics's interactive dashboards to measure a comprehensive set of Invoice Management KPI's.
This includes measuring the performance of OCR (Optical Character Recognition for the ICC, BCC and IES products). Inights & Analytics for VIM is a web application (SaaS) that can be up and running within a few days, thereby empowering your AP team to focus instantly on analysis and quickly generate data-driven insights.
The screenshots below illustrate - in descending order – a selection of Insights & Analytics dashboards: Automation, PO & non-PO Productivity, and Date Analysis.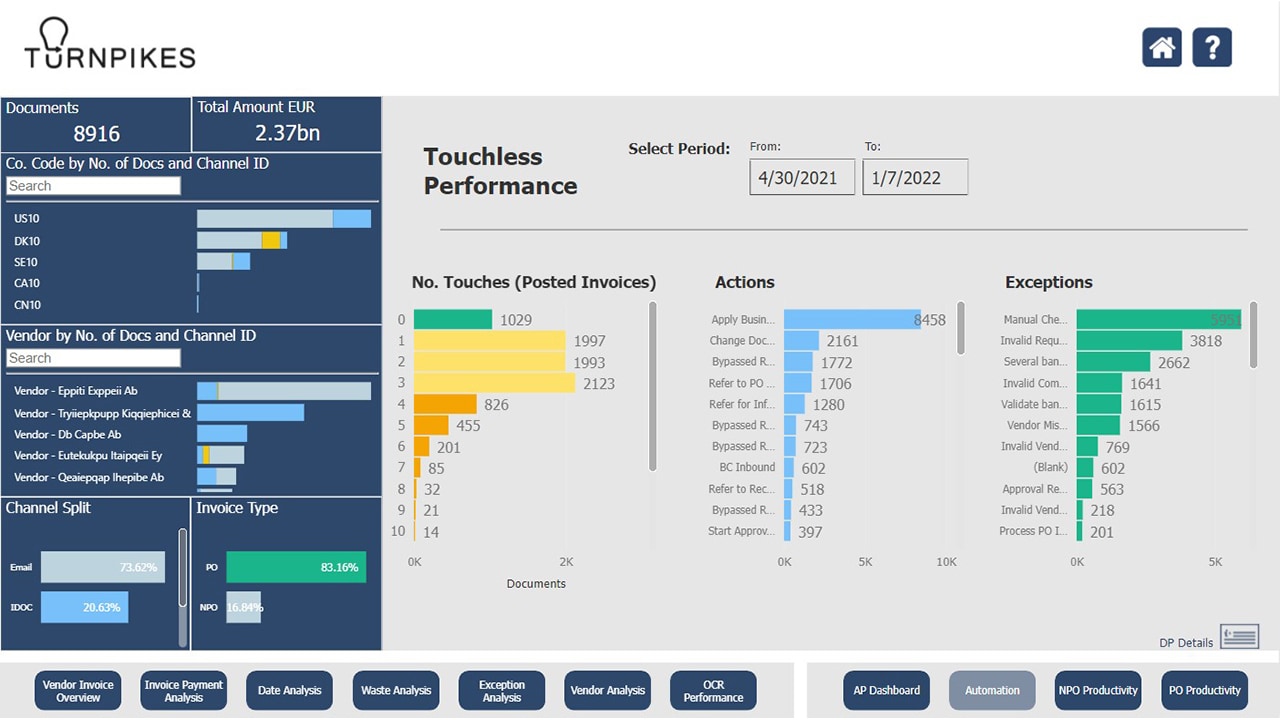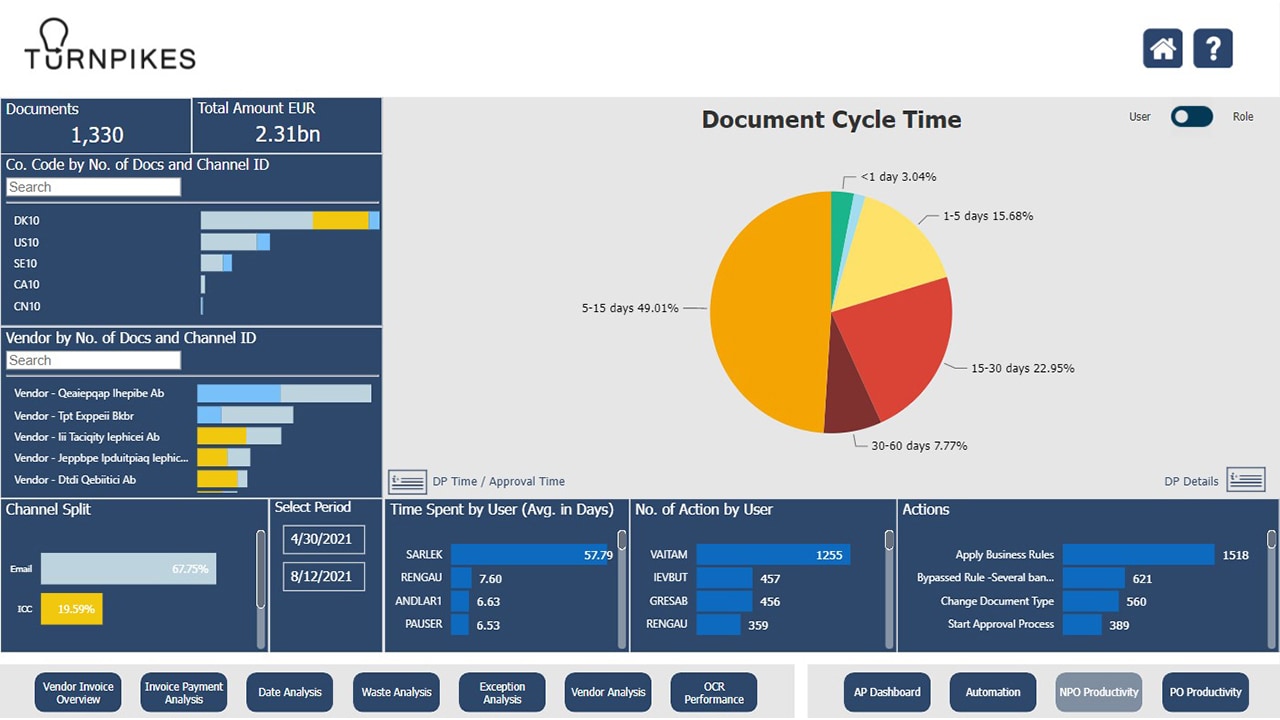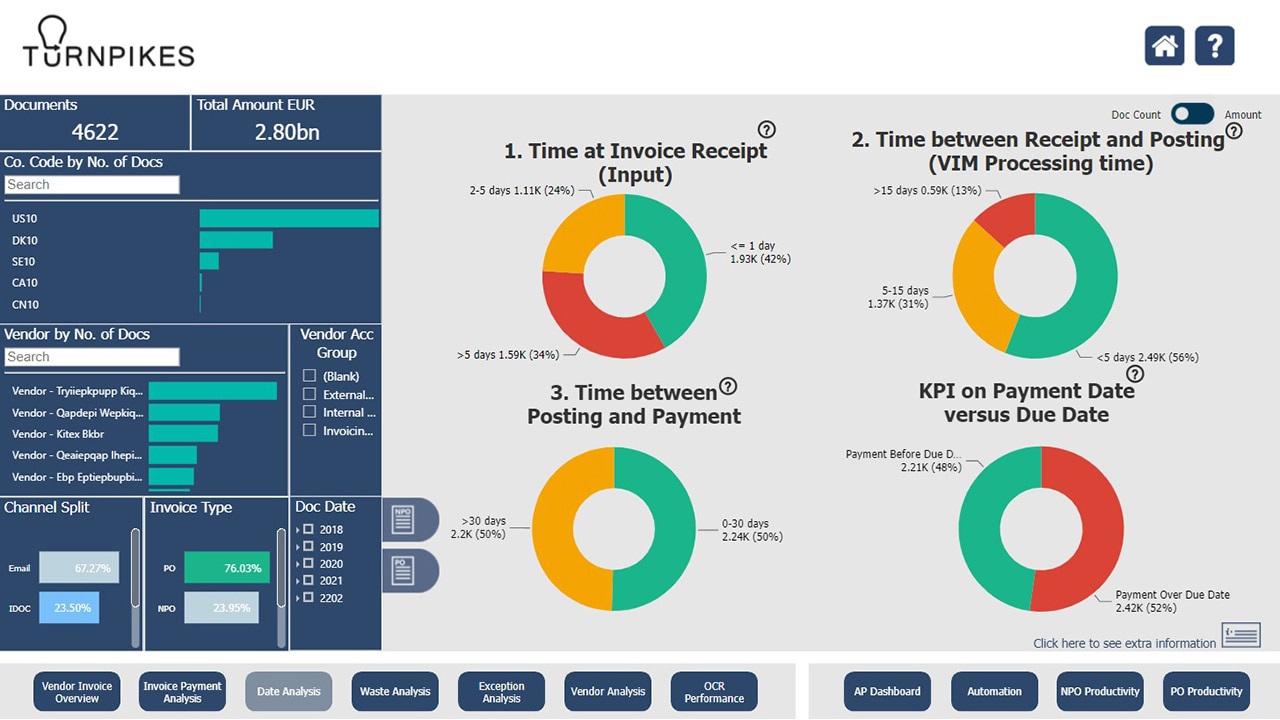 Insights & Analytics for VIM™ includes eleven (11) dashboards: Vendor Invoice overview, Invoice Payment Analysis, Date Analysis, Waste Analysis, Exception Analysis, Vendor Analysis, OCR Performance, AP Dashboard, Automation, PO and non-PO Productivity.
Automation Dashboard
Achieving Touchless processing is the aim of every organisation using VIM. The Insights & Analytics Automation dashboard shows the number of touches applied manually to incoming invoices and the underlying reasons for these touches.
Inights & Analytics for VIM is able to 'slice and dice' VIM data at will based on numerous filters such as company codes, vendors, invoice types, invoice channels, and more.
This dashboard provides unique insights into the obstacles that prevent your organisation from achieving a touchless invoice processing experience.
OCR Performance Dashboard
OCR (Optical Character Recognition) Performance is important since it determines how well and accurately invoice data and information is recognized and extracted from your scanned or PDF documents.
OCR software scans and captures information from documents, such as invoices, and significantly reduces manual work. The OCR performance dashboard gives you information on how well your OCR software performs.
You can then improve and optimize the areas needing finetuning or training, which can easily be identified via the dashboard.
Non-PO and PO Productivity Dashboard
The Non-PO and PO Productivity dashboards provide visual insights into the document cycle time of the invoices. It also shows time spent in the DP processing, and the Approval and Block resolution processing.
The ability to visually see the time spent per role and actions gives powerful insights into meaningfully resolving obstacles encountered in your Invoice management process.
Vendor Invoice Dashboard
This dashboard offers you a helicopter view of your Vendor Invoices as a whole. As with all the Insights & Analytics for VIM dashboards, you can filter and visualize VIM data in many ways. For example, it can be filtered based on company codes, vendors, invoice types, invoice channels, and more.
Invoice Payment Analysis Dashboard
This dashboard provides you with the information to improve on your vendor relations. Are you paying your supplies early, on time or late?
You can locate the pain areas and fix the problems to avoid past due payment penalties and improve vendor relations.
Date Analysis Dashboard
The Date Analysis dashboard is mostly used for the analysis of past due payments and as such empowers users to dig deeper. It enables users to find out whether the problem is on the vendor side or the customer side.
Waste Analysis Dashboard
Documents that are not invoices can end up in your invoice management process. It can be either duplicates of an invoice, invoices that have been mistakenly posted or other documents.
They all have a negative impact on your AP process. This dashboard visualizes your problem areas and makes it easy to fix these by applying targeted actions to progressively achieve maximum positive impact for your AP process.
Exception Analysis Dashboard
The most important objective is to achieve a 'touchless' or 'straight-through' process where invoices require zero manual intervention. This is known as the 'happy flow.'
A prerequisite to achieving this goal is to ensure that there are no exceptions left in your VIM workflow. However, most VIM workflow systems are flawed by a more or lesser degree of exceptions.
The Exception Analysis dashboard shows the number of manual touches invoices go through before being effectively posted. It offers insights into what causes these exceptions, which ones occur most frequently, and where these exceptions happen the most. – think of company codes and/or vendors.
Vendor Analysis Dashboard
This dashboard helps you manage vendors effectively. A dashboard that is highly interesting for the Purchasing or Procurement department.
It provides an overview of number of documents and amount in euro and other currencies. You can now focus on the vendors that provide you the most value.
AP (Accounts Payable) Dashboard
The Accounts Payable dashboard provides a visual overview of VIM documents that are not posted or sorted according to days remaining before payment.
You can easily see the number of documents in specific exceptions which, along with the capability to visually slice and dice according to Company codes, Vendors, input channels, and dates. It provides the AP Manager a quick overview on how to deploy their resources efficiently.
Details
Insights & Analytics for VIM is a SaaS application that can be set up and running in a few days. Thereby, empowering your AP team to focus instantly on analysis and quickly generate data-driven insights.
Try out our free online demo at https://turnpikes.pro/demo-entry/
or contact us for a live demo of Insights & Analytics to explore how to improve your Accounts Payable process.