Unisys Deutschland GmbH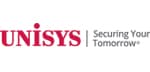 Unisys beschäftigt in Deutschland rund 300 Mitarbeiter und hat seinen Hauptsitz in Hattersheim am Main im Zentrum des Rhein-Main-Gebietes. Weitere Niederlassungen befinden sich in München und Friedberg/Bayern.
Unisys bietet ein Portfolio an IT-Dienstleistungen, Software und Technologie, um geschäftskritische Probleme unserer Kunden zu lösen. Wir arbeiten in Deutschland sowohl für die öffentliche Verwaltung als auch für private Unternehmen in den Marktsegmenten Industrie, Konsumgüter, Life-Sciences, Telekommunikation, Handel sowie Transport und Logistik.
Seit über 20 Jahren unterstützt Unisys Kunden im Bereich Enterprise Content Management (ECM) / Enterprise Information Management (EIM) in Deutschland und weltweit. Dabei verfügt Unisys über diverse Partnerschaften, um den Kunden eine für sie passende Lösung anbieten zu können.
Kundenorientierung, Einsatzbereitschaft und kontinuierliches Streben nach Verbesserungen – diese Eigenschaften des Unisys Teams sind ein entscheidender Erfolgsfaktor bei der Realisierung anspruchsvoller Projekte und dem täglichen Betrieb der unternehmenskritischen Anwendungen und Systeme unserer Kunden.
Overview
| | |
| --- | --- |
| Region | DACH |
| Product focus | ECM - Captiva;ECM - LEAP;ECM - Clinical Archiving;ECM - Documentum Platform;ECM - ECD Value Office Solution: Healthcare;ECM - Document Sciences;ECM - ECD Value Office Solution: Energy & Engineering;ECM - ECD Value Office Solution: Lifesciences;ECM - Kazeon;ECM - OpenText Application Content Management |
| Type of partnership | Reseller;Support |
| Industry focus | Financial Services;Aerospace & Defense;Professional Services;Public Sector;Travel |
| Partner level | Silver |
Products and Services Overview
Unisys ist ein weltweit tätiges Unternehmen für Informationstechnologie und stellt hochleistungsfähige, sicherheitszentrierte Lösungen für Unternehmen und staatliche Organisationen weltweit zur Verfügung. Das Angebot von Unisys umfasst Sicherheitssoftware und -Services, Services rund um die digitale Transformation und den digitalen Arbeitsplatz, Branchenanwendungen und Services sowie innovative operative Software-Umgebungen für hochintensives Enterprise Computing. Weitere Informationen darüber, wie Unisys seine Kunden im öffentlichen Sektor und in anderen Branchen wie Finanzdienstleistungen, Pharmazie, Handel oder Produktion unterstützt, finden Sie unter www.unisys.de, www.unisys.at, www.unisys.ch oder www.unisys.com.
Corporate Address
Philipp-Reis-Straße 2
Hattersheim Am Main
DE
65795