Fink IT-Solutions GmbH & Co KG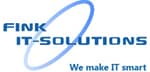 Fink IT-Solutions ist ein mittelständischer SAP® - Dienstleister mit Schwerpunkt Enterprise Content Management (ECM), SAP Modulen MM/SRM/WM/SD/PM und Mobile Solutions. Unsere mehr als 30 Mitarbeiter beraten unsere Kunden bei der Entwicklung der für sie passenden ECM-Strategie im SAP-Umfeld. Ihre Digitalisierungsstrategie der Industrie 4.0 - Initiative kann durch die Implementierung von ECM- Lösungen verwirklicht und ausgebaut werden. Als "Open Text Silver Partner" implementieren unsere OpenText-zertifizierten SAP-Berater und -Entwickler Ihre zukünftige ECM - Lösungen von OpenText® und SAP®, um Ihre Digitalisierungsziele schnell und effizient zu erreichen. Im Speziellen optimieren wir Ihre SAP® - Dokumentenprozesse, wie z.B. die Rechnungseingangsverarbeitungen mit OCR und Archivierung, elektronische SAP-Akten und Dokumenten-Workflows, sowie die reine Dokumenten- und Daten-Archivierung. Das "Fink IT-Solutions Support-Team" rundet unseren Kundenservice ab. So kümmern wir uns nicht nur um die Konzeption und Implementierung, sondern auch um den Betrieb Ihrer Lösungen.
Overview
| | |
| --- | --- |
| Region | DACH |
| Product Focus | ECM - Content Lifecycle Management;ECM - eMail Solutions;ECM - Enterprise Archive;ECM - Learning Management;ECM - Mobile Solutions;ECM - Captiva;ECM - ApplicationXtender (AX);ECM - Capture & Recognition;ECM - InfoArchive;ECM - LEAP;ECM - Clinical Archiving;ECM - Documentum Platform;ECM - ECD Value Office Solution: Healthcare;ECM - Document Sciences;ECM - ECD Value Office Solution: Energy & Engineering;ECM - ECD Value Office Solution: Lifesciences;ECM - Kazeon;ECO - SAP - Archiving;ECO - SAP - Digital Asset Management;ECO - SAP - Document Access;ECO - SAP - Document Presentment;ECO - SAP - Employee File Management;ECO - SAP - Extended ECM;ECO - SAP - Invoice Capture Center;ECO - SAP - Invoice Management;ECO - SAP - Travel Receipts Management;ECM - PIXEL;ECO - SAP - Portal Content/Site Managemt |
| Type of Partnership | Services |
| Industry Focus | Financial Services;Legal;Manufacturing;Retail;Consumer Packaged Goods;Utilities;Distribution & Transportation;Energy;Engineering & Construction;Media & Entertainment;Public Sector |
Products and Services Overview
Fink IT-Solutions bietet Beratung zur Konzeption und Implementierung von Enterprise Information Management (EIM) bzw. Enterprise Content Management (ECM) im SAP® - Umfeld, sowie Incident- und Problem-Management für die Analyse und Behebung von Fehlern. Zudem wird ein professionelles Change-Management für die Umsetzung von Systemänderungen bei Releasewechsel, Migration und das Patchen Ihrer Systeme angeboten. Auch das Availability-Management als Verfügbarkeitsüberwachung und –Reporting durch aktives Monitoring Ihrer Systeme gehört zum Portfolio. Unser Fokus liegt hierbei auf den Lösungen: SAP® – Archiving by OpenText SAP® – Document Access by OpenText SAP® – Invoice Management by OpenText OpenText Invoice Capture Center SAP® – Extended ECM by OpenText SAP® – Digital Asset Management by OpenText SAP® – FIORI Sie suchen einen Dienstleister für das Projekt-, Service- und Applikations-Management? Mit Fink IT-Solutions finden Sie einen kompetenten, zuverlässigen und erfahrenen Partner. Wir sind Silver Partner des Open Text Partner Programms.
Corporate Address
Schweinfurter Straße 9
Würzburg
DE
97080