DXC Technology Deutschland GmbH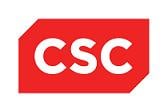 CSC at a glance: CSC is a global leader in providing technology enabled business solutions and services . Since the company was founded more than 50 years ago in 1959, CSC has helped clients use it more efficiently to improve their operations and profitability, focus on core competencies and achieve business results such as increased agility, innovation and top-line growth. Our service offerings include cloud computing; business process, software and platform as-aservice solutions; system design and integration; IT and business process outsourcing; applications software development; cybersecurity; web and application hosting; mission support and technical services; and management consulting.

CSC by the numbers: • $13.5B global IT services powerhouse for the 12 months ended September 27, 2013 • 50+ year track record of client service excellence • 81,000 employees worldwide, operating in more than 70 countries • 60+ service delivery centers and 2,500 enterprise clients

CSC Deutschland GmbH is an "Open Text Select Partner – SAP Competence" of the Open Text Partner Program for SAP Competence.
Overview
| | |
| --- | --- |
| Region | DACH |
| Product Focus | ECO - SAP - Archiving;ECO - SAP - Digital Asset Management;ECO - SAP - Document Access;ECO - SAP - Document Presentment;ECO - SAP - Employee File Management;ECO - SAP - Extended ECM;ECO - SAP - Invoice Capture Center;ECO - SAP - Invoice Management;ECO - SAP - Travel Receipts Management;ECO - SAP - Portal Content/Site Managemt |
| Type of Partnership | Services |
| Industry Focus | Automotive;Financial Services;Insurance;Manufacturing;Telecommunications;Consumer Packaged Goods;Aerospace & Defense;Computer Software;Utilities;Distribution & Transportation;Energy;Healthcare;Public Sector;Computer Hardware |
Products and Services Overview
CSC in Deutschland is part of the global CSC delivery organisation and responsible to organise the delivery of ECM services within the Central & Eastern Europe (CEE) Region (Germany, Austria and Switzerland, Italy and Eastern Europe). Our services are: Cloud Computing - Cybersecurity - Big Data - Mobile Business - Consulting (ECM Strategy, Process Consulting, Implementation Support - Architecture (SOA, ECM Concepts, System Optimization) - Implementation (ECM Solutions, Systems Integration, Migration) - Service Management (Help Desk Services, Application & System Services, Service Management) for - Capture (Scanning und capturing solutions, ICR / OCR , Electronic Inbox handling) - Manage (Document Management Systems, Business Process Management, Electronic Archiving, Records- & E-Mail Management) - Collaborate (Collaboration Solutions) - Deliver (Output Management Systems, printing line management, OPM Application Management)
Corporate Address
Hewlett-Packard-Str. 1
Bad Homburg
DE
61352