SCC EDV-Beratung Aktiengesellschaft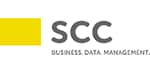 Die österreichische IT-Unternehmensgruppe scc EDV-Beratung AG ist auf Beratung, Implementierung, Schulung, Lizenz- und Wartungsagenden inklusive kontinuierlicher Supportaktivitäten und fachspezifischer Betreuung rund um SAP spezialisiert. Als langjähriges Partnerunternehmen von SAP und Open Text deckt die scc das gesamte Lösungsportfolio der SAP sowie alle ECM-Themen von Open Text rund um SAP ab. Oftmalige Auszeichnungen durch die SAP Österreich belegen unsere fachlichen und qualitativen Leistungen. Die scc bietet Komplettlösungen aus einer Hand – von der Evaluierung bis hin zur Betriebsführung. Mit speziellen Tochtergesellschaften wie HR Force (Personalwirtschaftslösungen auf Basis SAP HCM) und cross-it (SAP Basisdienstleistungen und Service Center) rundet die scc das Portfolio ab.
Overview
| | |
| --- | --- |
| Region | DACH |
| Product focus | ECM - Capture & Recognition;ECO - SAP - Archiving;ECO - SAP - Digital Asset Management;ECO - SAP - Document Access;ECO - SAP - Document Presentment;ECO - SAP - Employee File Management;ECO - SAP - Extended ECM;ECO - SAP - Invoice Capture Center;ECO - SAP - Invoice Management;ECO - SAP - Travel Receipts Management;ECO - MS - AGA for MS SharePoint;ECO - MS - Capture for MS SharePoint;ECO - MS - Email Mgmt for MS Exchange;ECO - MS - Enterprise Connect;ECO - MS - File System Archiving;ECO - SAP - Portal Content/Site Managemt |
| Type of partnership | Reseller |
| Industry focus | Automotive;Engineering & Construction;Media & Entertainment |
| Partner level | Registered |
Products and Services Overview
Die scc plant, optimiert und realisiert IT-Projekte und bietet Lösungen für sämtliche betriebswirtschaftliche Prozesse und Unternehmensbereiche an.
Beratung: - Die scc entwickelt eine ganzheitliche Sicht auf Ihre IT-Projekte.
Realisierung: - Die Umsetzungs- und Ergebnisorientierung ist eine der ganz großen Stärken der scc.
Support: - Von der Bearbeitung Ihrer Serviceanfrage bis zum Betrieb Ihrer Software: die scc bietet genau so viel Support, wie Sie brauchen.
Technik: - Know-how aus erster Hand - , von der Infrastrukturplanung bis hin zu Integration und Entwicklung.
Handel: - Wir machen es Ihnen so einfach wie möglich, bei der scc kommen Software, Lizenzen, Hardware und Wartung aus einer Hand.
Corporate Address
Wambachergasse 10
Wien
AT
1130