Introducing OT2, the next-generation EIM as a Service platform from OpenText, delivering services to support the development and deployment of EIM applications.
Transforming business workloads in a SaaS-first world
Read the new 451 Research Business Impact Brief for insights on the growth of hybrid SaaS in the Enterprise.
And, discover how connecting applications to backend systems avoids Saas sprawl, breaks down silos and ensures content flows seamlessly across the organization.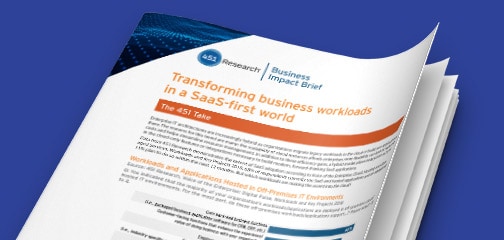 ---
OpenText™ OT2 is the flexible, hybrid platform for Enterprise Information Management (EIM) services and applications. OT2 features a growing list of SaaS applications that connect digital content with digital business processes. OT2 applications benefit from common services, including common storage, common security and common data models.
With OT2, organizations can leverage existing investments in their on-premises platforms and extend solutions where cloud can quickly improve time to value, such as customer, supplier and partner collaboration. Delivering SaaS applications that extend existing solutions prevents new information silos and simplifies technology investment decisions by providing compelling enterprise applications for business users.
What is OT2?
What is new in OT2?
Two new applications embrace and extend OpenText EIM solutions. OpenText™ Core for Legal extends use cases for eDOCS and OpenText™ Core for Quality Management extends use cases for Documentum for Life Sciences solutions. This release also includes a new milestone, the first SaaS application that leverages the proven concepts of Extended ECM. OpenText Extended ECM for SAP SuccessFactors delivers seamless content management for HR with SaaS simplicity, flexibility and rapid deployment.
Purpose-built SaaS Solutions
OT2 delivers purpose-built SaaS applications that quickly layer-in intelligent new features that extend existing applications. Built from the bottom up to be secure, OT2 helps the organization combat the inherent risk of information sprawl through various applications and clouds.
Services
OT2 brings together services for content collaboration, security, process automation, analytics and more. OT2 creates opportunities for deploying OpenText solutions in new combinations to support emerging use cases.
The Developer
OT2 accelerates digital transformation by exposing EIM services to developers that can be used to build cloud native applications. Easy-to-use APIs and SDKs will make it simple for developers to ramp up quickly and start solving business problems.
Find the right Application
Download the 451 Research brief
Resources
Webinars
Related Solutions