Global Brand Management
Maintaining a compelling, consistent brand message is essential in today's highly competitive marketplace. For global organizations, achieving brand consistency requires digital media management, marketing asset management, and mobile marketing capabilities as part of a global brand strategy. OpenText Global Brand Management delivers that and more:
Leverage rich media assets to create engaging, compelling experiences, whether online, on a mobile phone, or in person
Enable real-time collaboration between everyone involved in asset creation, approval, and publishing, including internal and external agencies, designers, photographers, writers, and artists
Provide a single, end-to-end marketing platform that gives the right people visibility over all marketing assets, rights, and usage
Support localization to reach customers in other regions, countries, and languages
Track and analyze the usage and effectiveness of digital brand assets so you can optimize future and proactively manage your brand equity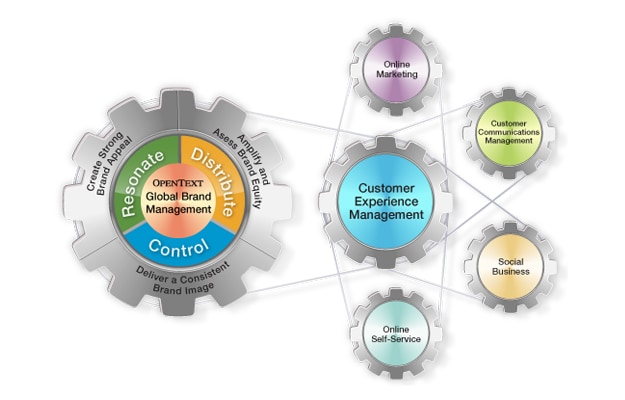 Global Brand Repository
Control - to deliver a consistent brand image. Create a secure repository where authorized users can access corporate brand assets – including logo files, product photography, marketing images, videos, advertising, point-of-sale materials, signage, or presentations. Offer your advertising agencies, distribution partners, syndicates, and franchises an online, self-serve site where they can download the final, approved version. Allow sales teams, dealer networks, and retailers to easily obtain the latest branded sales materials.
Marketing Asset Management
Distribute - to amplify and assess brand equity. Provide a central location where internal and external team members can collaborate on the creation and production of marketing assets. Connect your designers and editors using Adobe Creative Suite (Photoshop, Illustrator, and InDesign); follow established workflows and automate standard tasks to increase productivity, and publish only finalized media to print, Web, social networks, or email. Track budgeting to better forecast marketing spend and automatically take action when rights expire or restrictions need to be applied.
Web and Online Publishing
Resonate - to create strong brand appeal. Reach customers with consistent branding and messaging, whether on your Web site or an affiliate's – across laptops, tablets, or smartphones. Launch campaigns simultaneously on multiple platforms, across all channels, in many regions and languages. Maintain global control of your brand while giving regional teams the ability to localize as needed. Measure and analyze campaign effectiveness for continuous improvement and optimal performance.
Elements
Contact OpenText
OpenText Media Management

Transfer large files faster
Optimize workflows
Unify business systems