The State of Incident Response
Many organizations need to react much sooner to security threats and breaches since 42 percent say it takes two or more days to detect a threat and, post-incident, 52 percent say they need to manually reimage or restore their compromised machines.1
Read the SANS 2019 Incident Response (IR) Survey: It's Time for a Change to learn best practices for improving IR functions, and the benefits of integrating IR capabilities to identify cybersecurity gaps.
In this report, senior SANS instructor and IR expert Matt Bromiley explores:
What data, tools and information are key to incident investigations.
The state of budget and staffing for IR, the maturity of IR processes and how to manage resource scarcity.
Impediments to IR implementations and plans for improvement.
Actionable advice for improving organizational IR practices.
Download the report now to learn how organizations can improve their IR practices.
Fearless Response with OpenText™ EnCase™
Security teams can fearlessly respond and forensically recover with OpenText™ EnCase™, despite the ability of digital attackers to compromise endpoints and entrench themselves into the enterprise.
With OpenText EnCase Endpoint Security, incident response teams can:
Confidently and comprehensively remediate any commodity and advanced threat.
Amplify the impact and contributions of security experts and junior analysts.
Reduce alert fatigue and analyst burn-out with targeted detection, alert suppression, automation and the ability to prioritize relevant data based on context.
Quickly isolate advanced threats to prevent them from spreading.
Continuous monitoring to detect known and unknown threats in real time.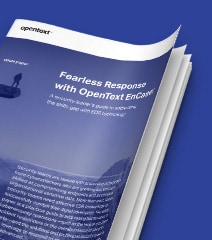 1 SANS 2019 Incident Response (IR) Survey: It's Time for a Change