Experience the world's leading digital platform for SAP customers
Companies deal with massive amounts of enterprise information. Managing this information is the key to simpler workflows, better decisions, more deeply engaged customers, employees and partners and faster results in a digital culture.

OpenText™ enables digital transformation with a digital platform to manage and deliver content to the SAP digital core, creating Intelligent and Connected Enterprises.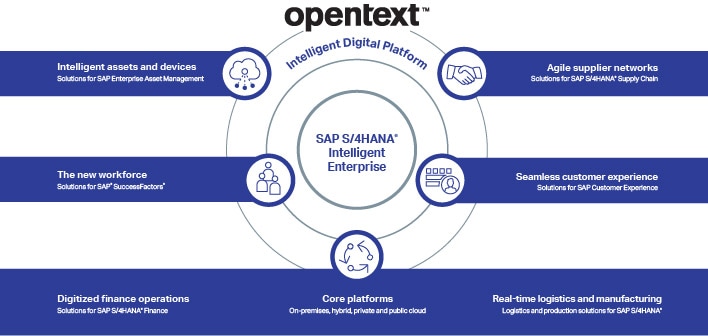 OpenText™ solutions for SAP
The new workforce
Solutions for SAP® SuccessFactors®
Provide HR services to the 50% of the workforce who have grown up in a world of "immediacy."
OpenText solutions for SAP SuccessFactors make employee content available in the immediate world of mobile and social collaboration.
Real-time logistics and manufacturing
Logistics and production solutions for SAP® S/4HANA®
Speed time to market with hyper-competitive product innovation and shipping cycles.
OpenText helps improve market performance, deliver value in logistics management and enable secure two-way collaboration between organizations and their customers, supporting individual product creation-to-delivery and digital production.
Learn how digitized processes provide legal security at MAN Diesel & Turbo.
Intelligent and connected assets and devices
Solutions for SAP® enterprise asset management
Adapt business models and processes to a world with 20 billion connected devices.
OpenText enables the hyper-connected world with digital content and media for safe, reliable and compliant assets powered by sensors, drones or augmented reality.
Learn how to transform asset information management with OpenText Extended ECM for SAP Solutions and SAP Master Data. Read the solution brief.
Seamless customer experiences
Solutions for SAP® Customer Experience
Attract, convert, serve and retain customers in an always-on world.
OpenText solutions for SAP® Hybris® support a rich, immersive, personalized customer journey with omni-channel delivery to enable marketing to the one, not the many.
Read the Aberdeen Report, Extended Omni-Channel Customer Experience: Contextual Content & Communications.
Digital workplace
SAP® Fiori® and Microsoft® Office 365® solutions
Satisfy end user demands for a simple and efficient experience across Microsoft Office 365 and SAP® S/4HANA®.
OpenText provides a superior experience for business users in SAP Fiori and seamless integration with Microsoft Office 365. Organizations can unify process productivity in SAP with personal productivity and collaboration in Microsoft Office 365.
Discover how to connect ERP, CRM and HCM business applications to your Microsoft Office 365 content.