Capturing experiences to drive engagement
The era of clunky call center software recording, bad coaching and poor scheduling is over. As a Workforce Engagement Management or Workforce Optimization solution for Amazon Connect, OpenText™ Qfiniti, an Amazon partner network standard partner, captures experiences in the contact center to drive customer and employee engagement. Qfiniti is a modular suite that includes tools to optimize quality monitoring, interaction recording, coaching and eLearning, performance management and surveying. Learn how Qfiniti, named 2017 and 2018's "WFO Provider of the Year," integrates seamlessly with the Amazon Connect cloud-based contact center deployment to:
Replace the existing coaching solution and move to the cloud
Cut the total cost of ownership
Eliminate traditional vendor headaches and costly upgrades
Why Qfiniti
The highly integrated features of Qfiniti suite are built on more than a unified user interface and centralized administration. Qfiniti addresses the workforce optimization demands of today's enterprise contact centers with:
Unified, end-to-end WFO/WEM solution adopted by leading enterprises with proven scalability
Analytics-driven quality monitoring, artificial intelligence (AI) advancements to sense and respond to customer behavior
Support for SMB and enterprise customers
Evaluation plans that "monitor the monitor" to maximize performance
Smart scorecards that offer coaching tips and automatically scored questions in quality monitoring
Qfiniti application modules
Qfiniti for Amazon Connect Architecture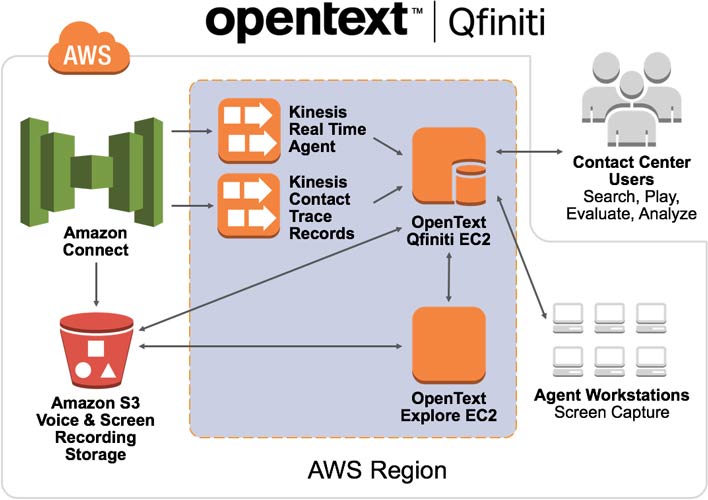 About Amazon Connect
Amazon Connect is a self-service, cloud-based contact centers service that makes it easy for any business to deliver better customer service at a lower cost. Its self-service graphical interface makes it simple for non-technical users to design contact flows, manage agents and track performance metrics—without specialized skills. With Amazon Connect, there are no upfront payments or long-term commitments and no infrastructure to manage.