Digital transformation in Canada
In today's highly competitive digital Canadian economy, everyone is buzzing about digital transformation. Executives are realizing and acting on the implications of a digital experience in order to gain the competitive advantage in cities across Canada, including Toronto, Vancouver, Montreal, Ottawa, and Mississauga.
Download the Digital Transformation Executive Toolkit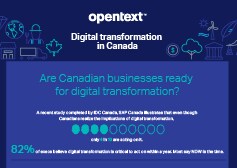 82% of executives in Canada believe digital transformation is critical to act on. Begin your journey of transformation to get the competitive edge.
Infographic - A framework to understand Digital transformation and the drivers of DX in Canada.
Whitepaper - Successful executive strategies + a model to assess digital maturity and readiness for transformation.
eBook - A step-by step guide to information management and a solutions for growing mass of structured and unstructured data with compliance.
Unlock the power of your information
Reduce the cost of managing application assets,
Improve information governance and compliance
Add value to business processes through the reuse of information.
Proudly Canadian
We are proud to be Canada's largest software company. We help shape the future and put information to work.
OpentText is 'The Information Company'. We are global leaders in Enterprise Information Management (EIM) and were named #1 in the new Gartner Magic Quadrant 2017 for Content Services Platforms.
---
Some top Canadian brands we helped transform!