Welcome to the Future of Enterprise Information Management
OpenText™ and Documentum. Two leaders in enterprise content management (ECM) have come together to forge your future.
Our plans are strategic. We're creating a stronger, more complete portfolio that helps you drive innovation, move from information to insight, and fuel growth.
Our plans are inclusive. We're investing, innovating, and continuing to provide full support for both the OpenText Content Suite and OpenText Documentum portfolios. We are preserving current investments; enhancements and integrations are being made to both portfolios so that everyone benefits.
Our plans are bold. We're expanding on Documentum's strategy of developing next generation, cloud-native content applications based on the LEAP platform. We've acquired a portfolio of world-class ECM experts and solutions that will immediately enrich ECM offerings from OpenText. As the leader in next-generation cloud content services, we're poised to accelerate your digital transformation.
Here's some information to guide you on your journey...
A few resources to help you learn more about OpenText and the industry's most comprehensive EIM product line
---

---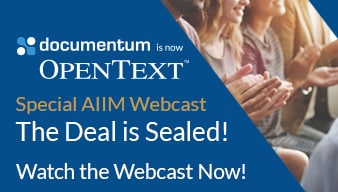 Complete the form to view the webcast, The Deal is Sealed, hosted by John Mancini, AIIM Chief Evangelist, to learn what the combination of OpenText and Documentum means for the future of ECM.
---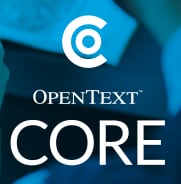 Renew to get the most out of your investment
Renew your Documentum maintenance agreement and get OpenText CORE, the business-ready file sharing and collaboration in the cloud tool, free. Speak with your Renewal Specialist for details.