On Digital: A small book on a big idea
Digitalization has the power to shatter entire industries and displace market leaders – but it can also be a force for innovation and introducing new business models. Ultimately, digitalization is critical to keep up with competitors in this increasingly fast-moving digital world. It is "Digital or Die." Get ahead of the game. Read the On Digital book.
Read On Digital to answer key questions about digitalization: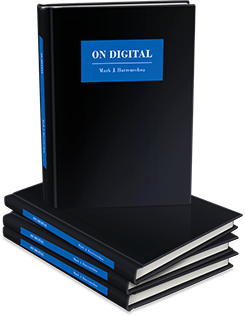 Why is hyperscale so important?
What role will Millennials play?
How will digital help on the customer journey?
What role will the supply chain play?
Where does data fit in?
What's next?
About the author
Mark Barrenechea, OpenText CEO and CTO
To be a digital leader, you must get ahead of the game. It's important to identify the opportunities for digital transformation, think and act in entrepreneurial ways, and "shake the shackles of legacy to move forward."
Jump aboard the On Digital elevator ride.
Watch these short videos on key disruptors described in the book.