Facilitate and demonstrate every stage of your GDPR program
The General Data Protection Regulation (GDPR) takes effect on May 25, 2018. Organizations in life sciences and healthcare will be particularly affected, as they process a vast amount of sensitive data on individuals. CROs involved in clinical trials, providers of healthcare services and health insurance companies will all be subject to the GDPR. Yet, research shows that few organizations are ready for this far-reaching regulation.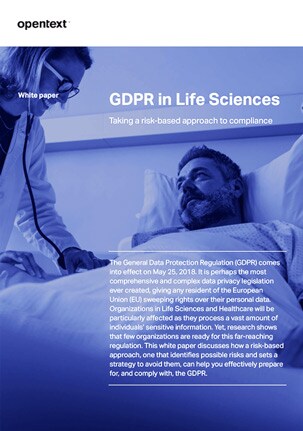 This GDPR white paper talks about how to:
Effectively prepare for, and comply with, the GDPR
Leverage an EIM platform to facilitate every stage of a GDPR program
Demonstrate the technical measures to meet data protection requirements
In a sector where public trust has been dented by a series of high profile incidents, GDPR compliance can help organizations build and maintain trust with their customers, patients, partners, stakeholders and regulators.