One digital ecosystem for trading partners
Close the digital gap in the supply chain
Supply chains have gone digital. But some trading partners are still sending paper, slowing down productivity and leading to lost documents, missed deadlines and other issues.
The problem is all too common: 77% of companies in the early stages of B2B integration maturity processed less than 50% of transactions digitally.1
With one digital ecosystem for all partners, organizations can close the digital gap and increase ROI.
All digital. All partners
Get the eBook, How to digitally collaborate with non-digital trading partners: Bridge the digital gap in your supply chain. You'll learn: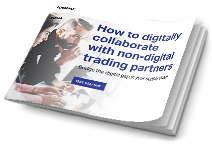 The digital challenges of trading partners
The impact of non-digital collaboration on the bottom line
A simple step-by-step strategy for implementing solutions to improve digital collaboration
The pros and cons of digitization options–from EDI and web apps to fax/pdf to EDI conversions
Read the eBook today and close the digital divide.
1 SCM World, "The B2B Integration Path: A Roadmap for Business Value Generation."