Securing IoT data across the connected supply chain
The benefits of Identity and Access Management
IoT is changing the game for supply chains. The total number of machine-to-machine (M2M) connections will grow from 5 billion in 2014 to 27 billion in 2024.1 As the rate of connected people, systems and things across the supply chain grows, organizations must secure all data and manage access to the interconnected devices producing it.
Organizations need a holistic approach to identity and access management (IAM) that governs systems access, connected devices and partners, vendors and customers information.
Watch Securing IoT data across the connected supply chain to learn:
A holistic approach to managing IoT identities across the connected supply chain to gain visibility and control over IAM.
The pros and cons of the top 5 methods that suppliers and logistics companies are using to assess IAM technologies.
The 4 most critical capabilities of a winning IAM solution.
How enterprises have used IAM to securely connect internal information with external partners.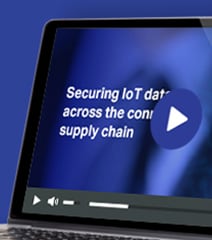 Explore the benefits of a fully connected ecosystem—and the best ways to overcome the security risks. Watch the webinar.