Disruptive innovation begins with supply chain automation solutions
Empower tomorrow's autonomous supply chain
Imagine having end-to-end visibility into your supply chain shipments? Monitoring inventory and consumption patterns and automated replenishment of inventory in realtime? Foreseeing potential equipment part failures and automatically initiating part-replacement and repair processes?
Picture how much easier and faster supply chain management and disruptive innovation could be with these capabilities. Now, make that picture reality.
Read the Supply Chain Brain white paper, How intelligent business networks will empower tomorrow's autonomous supply chains, to discover:
The 4 core capabilities of an autonomous supply chain.
Use cases on pervasive visibility, proactive replenishment and predictive maintenance for disruptive innovation via an autonomous supply chain and their real-world applications.
How AI, IoT and blockchain enable connectivity, intelligence, and secure collaboration in the autonomous supply chain.
Ways to overcome the obstacles to achieving an autonomous supply chain.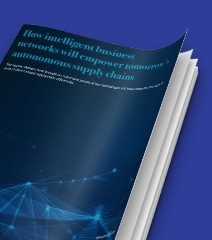 AI, IOT, and blockchain--the path to an autonomous supply chain

Independently artificial intelligence (AI), Internet of Things (IoT) and blockchain can significantly enhance supply chain management. Together, they can transform the supply chain with game-changing capabilities, such as proactive replenishment, predictive maintenance and pervasive visibility, laying the groundwork for a future of drone deliveries, self-driving trucks and even robot sales assistants.
It is time to seize the power of AI, IoT and blockchain—the perfect technology toolkit to capitalize on today's supply chain management opportunities and tomorrow's challenges.
93% of executives believe digital will disrupt their business in the next year.1 Don't get left behind, read the white paper.
1Madison Logic, Digitally Disrupt Your Supply Chain, sponsored by OpenText, 2018.