Creating business value with hybrid integration solutions
Organizations must learn to cope with the sheer volume of data being exchanged in a modern environment. Worldwide data creation is expected to increase to 175 zettabytes per year by 2025 1 and Application Program Interface (API) integration will help businesses ensure the smooth flow of data between any cloud-based and on-premise applications.
Get this IDC brief to learn the importance of an integration solution that simplifies processes, restructures infrastructure, standardizes data across an application landscape and lowers the cost per integration.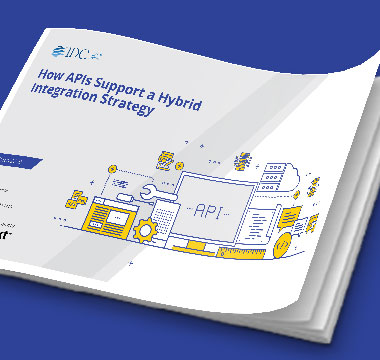 With an API-based or hybrid integration platform, businesses no longer need to replace their entire infrastructure to break down data silos. Learn what to look for in a hybrid solution, including:
API administration to create, secure, monitor or disseminate APIs across environments easily and quickly
Data and application integration for breaking down the bottlenecks of siloed data
An event-driven architecture for building more engaging customer experiences or react to things in real-time
1 IDC: The Digitization of the World from Edge to Core, 2018