Increase insight and control—automate information governance
More than 50% of organizations see the automation of information governance as a deal changer.1
As data from knowledge workers, suppliers and customers continues to boom, so do the risks and the urgent need to automate information governance. To ensure data compliance and successful records management, content must be captured and classified, and retention policies applied automatically. Learn how information governance automation makes it happen.
Conquer information overload with automation
Understanding the value and risks of the vast volumes of information in an organization is daunting. The main problem is that manual classification and filing processes are subjective and suffer from low adoption, leaving organizations unable to track the location and business flow of everyday business documents, communications and other data.
Get the new AIIM special report
Information Governance is Too Important to be Left in the Hands of Knowledge Workers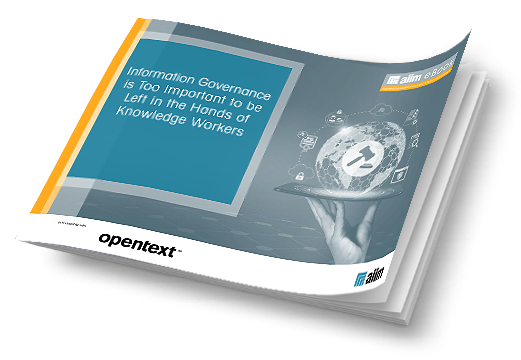 Four reasons why automation of information governance is a necessity in today's era of data privacy and regulatory compliance.
Why manual methods of content management, document management and records management are failing.
Three "pressure points" of information compliance failure and why they matter.
Why conventional information security and risk management approaches are no longer enough to keep the bad guys out.
The value of applying artificial intelligence (AI) to information governance.2
Required: A better method of managing structured and unstructured content
62%

of information that must be managed in an organization is unstructured data.3

55%

of organizations have serious concerns about private and sensitive data residing on servers and endpoints.4

60%

of digital businesses will suffer major service failure due to the inability of IT service teams to manage digital risk.5
The solution: Intelligent governance automation
Enterprises need to move from a reactive to a proactive method of identifying, categorizing and remediating private or sensitive data. Organizations need deep levels of insights and control of data that spans all entry points, endpoints, file shares, servers and cloud repositories to mitigate risk and boost business efficiency.
AI/machine learning can help solve the top three information governance challenges.
1. Automate document classification and categorization with text analysis.
2. Identify and classify documents during the intelligent capture process.
3. Pinpoint the underlying content of a document in its context.
Get the AIIM special report to learn how to make information governance automation a competitive advantage—starting today.
1 AIIM, "Information Governance is Too Important to be Left in the Hands of Knowledge Workers," 2018.
2 Ibid.
3 Ibid.
4 Ibid.
5 Ibid.