The Information Advantage
Lead a better world with Tech for Good
Disruptive technology is changing the world and will force business transformation. By 2027, three-quarters of today's S&P 500 companies will be replaced.1
Building sustainable businesses that thrive in the 4th Industrial Revolution will require the Information Advantage – the outcome of using information to its full potential. Enterprise Information Management (EIM) unlocks the Information Advantage for sustainable growth and the capability to solve the world's biggest challenges.
How can you unlock the Information Advantage?
Today's enterprises face powerful headwinds, including information overload, cybersecurity threats, changing customer expectations and global regulatory shifts.
Learn what's required to unlock the Information Advantage in this white paper by OpenText™ CEO and CTO Mark Barrenechea. Discover how disruptive technologies accelerate business transformation.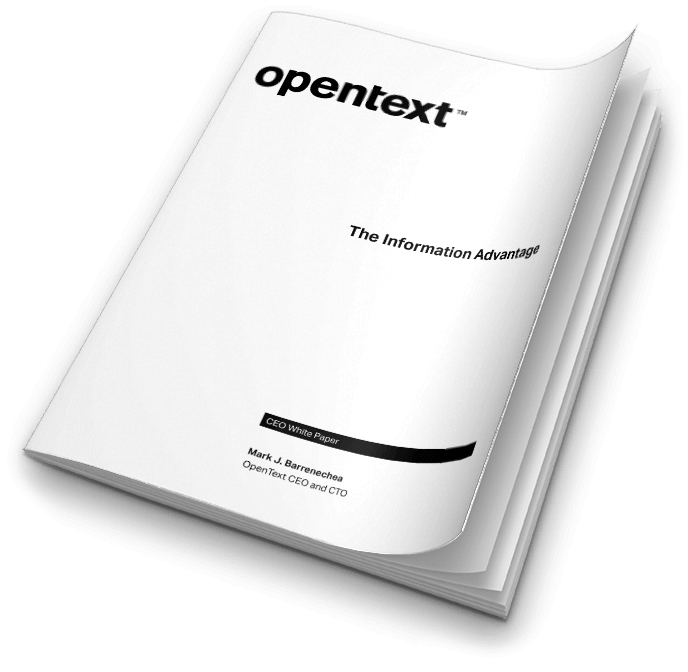 OpenText EIM solutions capture, govern, exchange and use information to its full potential while keeping it secure. EIM is a holistic approach to transforming information management, both inside and outside of enterprises.
EIM platforms reduce sprawl and integrate information as it flows through business processes. EIM accelerants are disruptive horizontal technologies. Used with EIM platforms, accelerants process and enrich information at incredible scale to fast-track business transformation.
Enterprise Information Management solutions


Simplify collaboration and compliance
Learn how to create a single, authoritative source for regulated content across your organization.
Download the white paper

Personalize health services with AI
Learn how AI connects disparate healthcare data to deliver predictive analysis.
Download the white paper

Energize operational excellence
Learn process and content management best-practices to drive operational excellence in energy exploration, generation and distribution.
Download the white paper

Cut costs with asset optimization
Learn how to use AI and IoT for asset performance optimization and predictive maintenance.
Download the eBook

Streamline supply chain operations
Benchmark your operations against supply chain best practices to uncover new sources of efficiency and reduce waste.
Talk to an expert
A CEO guide to unlocking the Information Advantage
Download "The Information Advantage" white paper by OpenText CEO and CTO, Mark J. Barrenechea
1 Harvard Business Review, Digital Transformation Is Racing Ahead and No Industry Is Immune